DARE's humble beginnings
DARE got its beginnings in the city of Los Angeles in the early 1980s. Daryl Gates, the LA Police Department (LAPD) Chief of Police, helped create the program, and became its first figurehead. The story goes that when Gates noticed that the number of drug busts on school campuses was increasing, he had the idea to focus on preventative education instead of punishment. As Gates told the L.A. Times in 1993:
"We had 'buy programs' in the schools where undercover officers would buy drugs from students. We kept buying more and more. It was appalling, depressing. I finally said: 'This is crazy. We've got to do something."
The LAPD, in conjunction with the local rotary club and the LA Unified School District (LAUSD), came up with the Drug Abuse Resistance Education Program, DARE (also, incidentally, a pun with Chief Daryl Gates' first name.)
Dr. Ruth Rich, the district's health education specialist, was tasked with selecting the first curriculum. Research on drug prevention education was already underway at USC, under the title "SMART." But there was a catch — Gates wanted DARE to be taught by police officers themselves, not doctors or teachers. Rich agreed with him, on the grounds that cops are more familiar with criminal culture. As she told the LA Times, "There's a gap between the street and the classroom. Police officers are believable on this subject. When it comes to drugs, they're more credible than a teacher."
The idea of police officers in the classroom turned off some of SMART's original authors, including the head of the research team, Andy Johnson. Reason Magazine reported, "Though sympathetic to Rich's dilemma, Johnson had serious objections to handing an experimental educational program over to the local police."
Without Johnson's oversight, Rich took the SMART curriculum and patterned her own off of it. In 1993, there were two main versions of SMART: one that focused on developing personal goals and self esteem, and another that focused on resisting things like peer pressure and advertisements. Rich combined the two approaches.
When the school opened in September 1983, the LAPD took to the classroom to both teach kids about the dangers of substance abuse, boost their self-esteem, and help them practice "just saying no" (a la Nancy Reagan). Within a few years, DARE was a regular fixture in LA schools. By the mid-nineties, it was a national organization with multi-million dollar annual revenue.
The program was popular among parents and students from its inception. It was also popular among politicians and bureaucrats, who saw DARE as a way to be proactive about, "The Drug Problem."
Overall efficacy
Addiction comprises a physical and psychological dependency on a substance that can be impossible to escape without professional help. This is perhaps even more so the case for the young addict. Since its conception, the D.A.R.E. program has seemingly wavered between success and failure in achieving its goal of decreasing drug abuse. A 1998 study noted a 50 percent decreased likelihood of high-risk drug use among students who participated in the D.A.R.E. program. Meanwhile, research is plentiful that points in the other direction. Between 1992 and 1995, there was a 59 percent increase of illegal drug use among high school seniors, and a 92 percent increase among 8th graders who reported lifetime use of marijuana between 1991 and 1995.
So what exactly was D.A.R.E. contributing while these numbers were steadily rising? Some sobering realities about the American youth include:
36 percent of American teenagers have used alcohol by the time they enter 8th grade
71 percent of teens have used alcohol by their senior year of high school
By 8th grade, 21 percent of teens have used an illegal drug
By 12th grade, that number spikes to more than 48 percent
The new D.A.R.E. program
In the original program, police officers visited schools to inform kids about the dangers of drugs and violence and boost their self-esteem so that they would say no when peer pressure crept up. At the program's height, it was in 75 percent of the country's public schools. The program's effectiveness was called into question though, and a 1994 study funded by the Department of Justice showed the program only had "short-term reductions in participants' use of tobacco—but not alcohol or marijuana." By 2012, it had all but dried up with a budget shrinking from $10 million to just three million.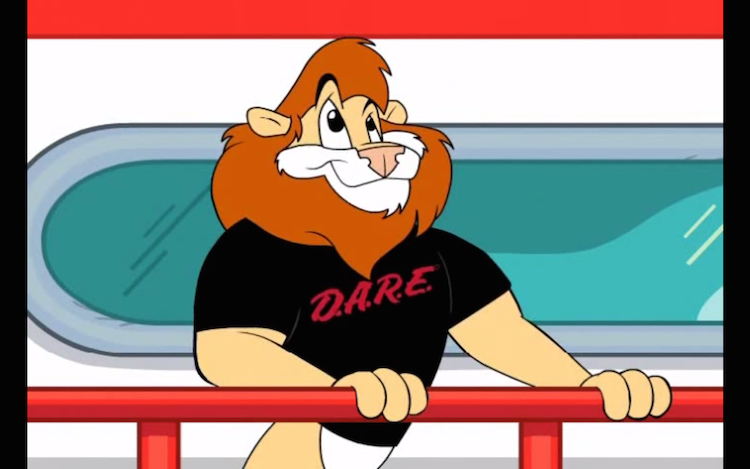 D.A.R.E. is now beginning to find itself in a growing number of schools, though it's not the same program of yesteryear. The new program has more input from behavioral prevention specialists rather than mostly law enforcement and focuses on good decision-making and responsibility. "It's not an anti-drug program," Michelle Miller-Day, co-developer of the new curriculum, told Scientific American. "It's about things like being honest and safe and responsible." The new program has adopted the "keepin' it REAL" approach (Refuse, Explain, Avoid, Leave) with police officers working in role-playing activities with students.
"The core of the curriculum has stayed the same," Sgt. Scott Staggs, an officer in the Nashville, Tennessee, area told WKRN news. "D.A.R.E. has really tried to keep up with the times about changing things that are going on." The state will have 130 officers in public schools this school year, educating kids on a new prevention program that focuses on the dangers of opioid use.
"Our program, the research has said, is to go to decision-making," Lloyd Bratz, D.A.R.E.'s regional program director, explained. "Are the kids making a good decision regarding whatever it is? Alcohol, tobacco, drugs, marijuana, opioids, whatever it may be."
Alternatives to D.A.R.E.
Alternatives to D.A.R.E. are important. The DARE program is very popular. However, researchers have, without exception, found it to be ineffective. Even worse, some have found it to be sometimes counterproductive. That is, worse than doing nothing. For example, see Drug Abuse Resistance Education: the Effectiveness of DARE.
That's the conclusion of the US Department of Education (DOE), the US Surgeon General, the US General Accountability Office (GAO), and the American Academy of Sciences, among others. The Department of Education strictly prohibited the use of any of its funding to support DARE in any school. DARE is, at best, ineffective. That's reason enough to look at alternatives to D.A.R.E.
Unfortunately, recent reports that D.A.R.E. is now effective are erroneous.
Fortunately, schools are not faced with the choice between DARE and no program. A federal agency (SAMSHA) has identified 66 model programs. Any would be preferable to the ineffective DARE program.
The alternative model programs follow. Abbreviations:
CDC = Centers for Disease Control and Prevention
DHHS = Department of Health and Human Services
DOE = Department of Education
NIDA = National Institute on Drug Abuse
OJJDP = Office of Juvenile Justice and Delinquency Prevention
SDFSC = Safe and Drug Free Schools and Community Program
SAMHSA = Substance Abuse and Mental Health Services Administration