Chances are you've heard of ScrOG. Regardless of your experience as a grower, you'll want to know exactly which strains can hold up to this seemingly difficult, yet really rewarding method of growing. Read on for a quick guide to the best strains for ScrOG growing.
WHAT IS SCROG?
ScrOG refers to screen of green, a method of growing cannabis through—you guessed it—a screen. It's arguably one of the best methods to maximise yield, especially if you're only growing a handful of plants.
"Scrogging" usually requires 1–5 cannabis plants per m², and a screen or mesh sitting roughly 20cm above the pots. The screen can be made of almost any material, as long as the holes of the screen are at least 5–10cm wide. The plants are then trained to grow no higher than the screen, creating a large horizontal canopy.
Each grower will have their own unique way of doing this; some will trim foliage once it grows above the screen, encouraging new branches to grow horizontally. Others will achieve the same goal by tucking or tying branches so they don't grow above the screen.
ScrOG is mainly used by indoor growers because it allows them to maximise their yields even when working with limited resources and space. Once the screen is roughly 70% full with vegetative growth, you can flick the lights and switch to flowering. The plants will usually occupy the rest of the screen during the flowering phase.
Jack Herrer Fem from Seedsman
Genetics – Original Haze x Red Skunk
Flowering Time – 9 Weeks
Jack Herrer from Seedsman is a hybrid of Northern Lights # 5, Shiva and Skunk. The result is a very vigorous plant which is a perfect candidate for SCROG.
When training Jack Herrer, you will want to cover as much of the net as possible, because when she is flowered, she will stretch substantially, with multi-branched tightly packed flowers.
As she is a three-way hybrid, this lady will express the best of her lineage and as a result, will produce tremendous yields.
The taste and aroma is citrus, pine, lemongrass and musky mango.
Her effects when smoked are feelings of total happiness and a state of focus and awareness.
A great strain for social scenarios and times of high concentration with THC levels between 18-23%.
White Russian Fem by Serious Seeds
Genetics – O.G Kush x White Russian
Flowering Time – 8/9 Weeks
Serious Seeds created this hybrid back in the 1990's, and while it is still considered a powerhouse concerning yield and potency, the modern day White Russian is a brilliant strain for SCROG.
She will grow tall and with an abundance of new shoots from every side branch, making her easy to train and set in place.
This lady will also react very well to super cropping and snapping of stems, allowing a very strong and dense canopy to be formed above the screen.
When flowered, she will stretch around 150% which is ideal for using a screen.
Her taste and aroma are a strong, musky and pungent earthy sweetness, which is more defined when smoking.
She can test as high as 20%+ in THC, which makes her a highly potent and sizeable yielding cannabis strain.
Star 47 Fem from World Of Seeds
Genetics – AK47 x Sensi Star
Flowering Time – 8/9 Weeks
Despite Star 47 being a 90% Indica, she is well recommended for SCROG.
This lady is a hybrid of AK47 and Sensi Star from Paradise Seeds. Both of the parents were previous cup winners so you can expect highly potent flowers with robust bushy plants.
Despite her indica dominance, Star 47 will stretch considerably, yet will not grow taller than 150cm. She will grow with multiple tops all producing one main cola, similar to the original AK47.
Her taste and aroma are intensely sweet and similar to candy and perfume. She has a beautiful fragrance which when smoked becomes amplified to a smooth, cherry funk.
This strain will produce yields of thick, dense and sticky nugs in a short time of 63 days, making her an excellent choice for beginner growers who want to test themselves with a SCROG set-up.
Amnesia Kush Fem from Dinafem
Genetics – Amnesia Haze x O.G Kush
Flowering Time – 9/10 Weeks
An enormous yielding strain from Dinafem, Amnesaa Kush is a hybrid of Amnesia Haze and O.G Kush. The result is a 20% THC, monster producer that works amazingly in a SCROG.
The structure of the plant is tall and thin, with large fan leaves that have thin blades.
Amnesia Kush is very easy to train and is ideal for anyone who is new to SCROG.
When flowered, she will stretch around 200%, meaning she can be easy to control once the growing period is over.
The taste and aroma is citrus and lime, with earthy overtones. When smoked, the taste is more diesel and gas like, with a potent high that can leave users couch locked and lethargic.
Amnesia Kush is one of the largest producers around and comes highly recommended.
Skywalker Kush Fem by Reserva Privada
Genetics – Skywalker x O.G Kush
Flowering Time – 8/9 Weeks
Skywalker Kush from Reserva Privada is highly aromatic, highly potent and high yielding.
She is a cross of Skywalker from Dutch Passion and an O.G Kush, meaning she will express a 75% indica dominance.
Perfect for SCROG, she will grow small and stocky during the growing stage and when flowered, will stretch around 200%.
This lady has a very tall stretch for a Kush strain, which is why she has made this list.
The aroma and taste are intense, and the palate is overwhelmed by a creamy, diesel, dank, lemony citrus which is seriously loud regarding flavour and fragrance.
While Skywalker Kush producers delightful small, thick, dense buds which are coated in resin, she is exceptionally pungent so make sure those carbon filters are working correctly!
BRUCE BANNER #3
Just like the comic book character of the same name, this strain is a big, strong, green monster. A hybrid that combines OG Kush and Strawberry Diesel genetics, Bruce Banner #3 delivers great potency and aroma, as well as exceptional yields.
Bruce Banner #3 is a slightly sativa-dominant hybrid, which shows when it matures, needing roughly 63–70 days to finish flowering. This makes it ideal for ScrOG setups where you can use multiple plants to maximise the size of your yields, which can top 400g/m².
Come harvest time, Bruce Banner #3 will reward you with big, dense flowers. Its buds are extremely aromatic, combining fresh citrus and sweet berry aromas. Besides its incredible aroma, Bruce Banner #3 is also super potent, boasting THC concentrations of up to 27%.
GREEN GELATO
Green Gelato is a superb hybrid from Royal Queen Seeds. It was bred using famous West Coast Cookies genetics (Thin Mint Cookies) and Sunset Sherbet. The result is a slightly sativa-dominant hybrid that's pleasing on literally all fronts.
In terms of aroma, Green Gelato combines the delicious sweet mint notes of Thin Mint Cookies with the fresh citrus aromas of Sunset Sherbet. The result is a sweet, fresh, minty aroma that strangely resembles Italian ice cream. In terms of potency, Green Gelato produces a strong euphoria that combines mental stimulation with long-lasting physical relaxation.
In a grow room, Green Gelato is a great option for Scrogging. Stick these plants under a screen and they'll cover it in a matter of weeks, given the right conditions. Just remember that, being a sativa-dominant strain, Green Gelato can take around 8 to 10 weeks to flower. Once they're ready, however, these plants can produce massive harvests of up to 700gr/m².
SUPER OG KUSH
There are countless OG Kush varieties on the market, but this has to be one of our favourites. Bred by Kannabia Seeds, this Super OG Kush boasts an all-star genetic lineup of Black Domina, Lemon Thai, and Hindu Kush varieties.
Super OG Kush produces that nice, relaxing body high that people look for in any Kush variety. At the same time, you might experience a clear-headed euphoria that many people find helps boost creativity. In terms of aroma, Super OG Kush combines spicy earth aromas with slightly fruity, almost diesel-like undertones.
This strain is great for ScrOG because it responds super well to training and pruning. Super OG Kush also has a slightly faster flowering time than some of the other varieties on this list, reaching full maturity within 58 days. Come harvest time, Super OG Kush can leave you with up to 600g/m² of premium, top-shelf bud.
SUPER SILVER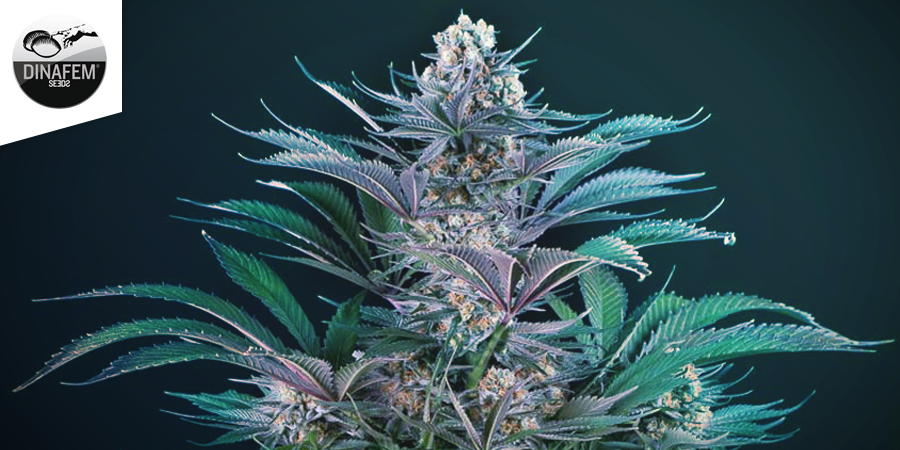 Super Silver is a sativa-dominant strain bred by famous Dutch breeders Dinafem. A unique phenotype of the infamous Super Silver Haze, this variety grows big and produces excellent yields of potent buds.
Super Silver has a super sweet aroma that seems laced with subtle, yet definitely noticeable spicy undertones. Like its parent, Super Silver delivers that kind of energetic, uplifting high that can easily become psychedelic, especially in larger doses. If you plan to use this strain during the day or any other time you need to stay focused and productive, make sure to do so in moderation.
Because of its size and stretchy morphology, Super Silver is perfect for Scrogging. Given enough vegetative time, a single one of these plants can take up an entire screen and produce a sea of big, sticky buds. If you're working with a limited amount of space but still want to grow a big, tall sativa, this is the way to go.
WHITE BERRY
Last but definitely not least on our list of strains that do extremely well in ScrOG is White Berry by VIP Seeds. A cross between Strawberry, Black Domina, and a mystery sativa, this strain might not be as well-known as some of the others on this list, but it definitely delivers.
White Berry grows like a typical sativa, reaching medium to large heights, developing big fan leaves and an open structure with large internodes. It responds extremely well to training, especially methods like ScrOG that let it grow multiple large buds, rather than just one central cola.
White Berry takes roughly 9–10 weeks to flower, but can produce massive harvests of big, frosty buds that provide a long-lasting, predominantly physical stone and give off fresh berry aromas laced with notes of spice.