How to Grow Hydroponic Cannabis at Home
Hydroponics is when you grow your cannabis plant in an inert medium like coco or a reservoir of water, and provide all the nutrients to the plant directly in the water.
Growing in coco coir can be considered a type of hydroponics since it naturally contains no nutrients and you must provide all the nutrients in the water. However, when you say "hydroponics" most people think of this: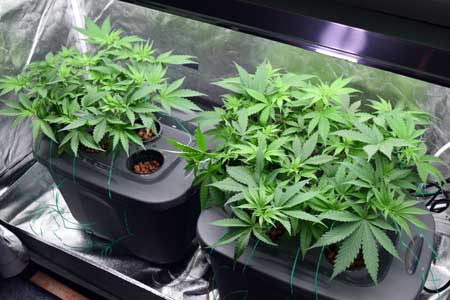 Differences Between Soil & Hydro
The optimum pH for coco and hydroponics is 5.5-6.5, while the optimum pH for soil is 6-7
Nutrients must be provided from when a hydroponic plant is a seedling (in seedling doses to start), otherwise the seedling will grow slower because it only has what's contained in the seed itself. In soil you don't need to add nutrients for a few weeks since there's already some in the soil
Growing in coco coir (a growing medium that looks somewhat like soil but is actually made of dried coconut husks) gives you results that are somewhat between growing in soil and growing in a hydroponic reservoir of water – you get a lot of the benefits of both
Pros of Hydro
Plants in hydroponic setups generally grow faster in the vegetative stage than soil-grown plants
Less likely to get bugs
Buds can feel more potent
If growing in a reservoir you don't have to worry about watering your plants when they're dry, over/under watering, or removing runoff. Everyone is different but I find maintaining a hydro reservoir easier than moving the plants around or watering and using a wet vacuum to remove runoff (but we all have our personal preferences!)
If growing in a reservoir you use a very efficient amount of nutrients since you only mix up new water a few times a month, and only toss old water after the plant has already used up a lot of nutrients, which can save quite a bit if you're using expensive nutrients and is better for the environment (compared to drain-to-waste)
You have more control over nutrient levels, PPM, and pH – for the mad scientists among us who want to get the most out of our plants as possible!
Cons of Hydro
Hydro usually takes more preparation/setup than growing in soil. You're providing more for the plant instead of letting the soil do some of the work for you
It can be easy to get root rot in hydro if you don't provide your plant with a good-bacteria supplement like Hydroguard.
Soil-grown buds may have a more complex or stronger smell than hydro-grown buds, especially if grown in composted living soil without any liquid nutrients
Growing in soil is more intuitive for many people, and some people already have experience with soil from other types of gardening!
Is Hydroponics Good for Growing Cannabis?
Have you seen cannabis plants growing with their roots just floating in a reservoir of water? This type of hydroponics is known as Deep Water Culture (DWC), and has been around for over a 100 years! As more growers gain experience with this medium, DWC has become increasingly popular for growing cannabis. Hydroponic setups are really neat and offer some big benefits over growing in soil!
Benefits of Hydro Over Soil
Plants grown in a hydroponic reservoir tend to grow faster in the vegetative stage, resulting in bigger yields and faster harvests
Hydroponic buds tend to be more potent and often cost more at dispensaries
Once a hydroponic reservoir is set up, it does not take a lot of work or time to maintain. Instead of regularly watering plants and removing runoff, a hydro reservoir only requires you dip a PH Pen and top off with more water or adjust as needed.
Cons of Hydro
Takes more time and effort to set up than soil or coco
Buds grown in soil without added nutrients tend to have a stronger smell than buds grown with liquid nutrients like in a hydroponic setup (though if you're trying to keep things low odor this might be a benefit).
Unless you protect your roots by using the right supplements and equipment, your plants may struggle with root rot. Luckily if you follow the steps in this tutorial you don't need to worry about root rot killing your plants!
Hydro is a no-brainer for me. Whenever I go back to a hand-watered grow like coco coir, I am always surprised by how much extra time it takes to water plants and remove the runoff. The most intimidating part of hydro is just getting started – after that it's actually really easy to take care of your plants. In my opinion, hydro is far easier and less time consuming than growing in soil or coco coir once you're set up. If you are interested in hydro, go for it! If you follow this tutorial you will succeed!
Is Hydroponic Growing Beginner Friendly?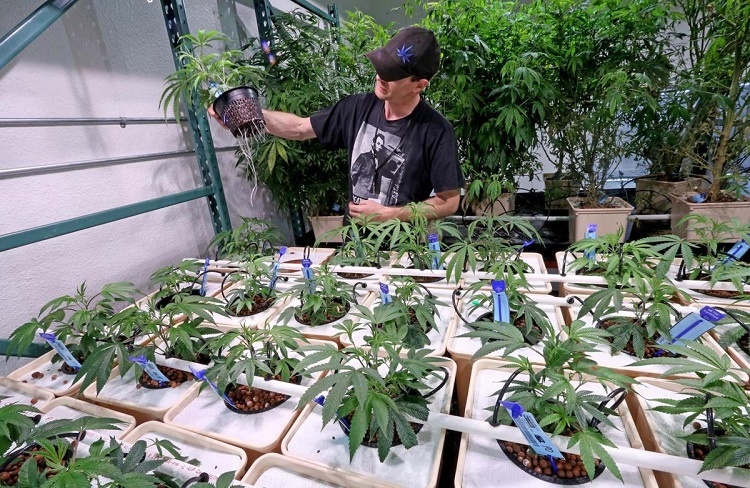 The truth is although the hydroponics system is very rewarding since you get a faster yield, it's not recommended for beginners since the process can be difficult.
However, if you have never grown a marijuana garden before and you insist on doing it through the hydroponics system, it's best to start small.
Some of the advantages of growing your marijuana hydroponically include the fact that your plants grow faster. In fact, it grows 20% faster than it does in soil.
The yield is also between 20 to 25% bigger with hydroponics systems as compared to soil.
You require no soil at all. So this is a distinct advantage as compared to traditional marijuana growing in soil.
Hydroponic growing also takes less space since there is no need for extensive root systems, and your marijuana plants get all the nutrients they need directly from the air and water.
Water is preserved, so it's perfect for drought-stricken areas. With a hydroponics marijuana garden, very little water is evaporated, so this saves water as well.
If you're keen on getting started, the first thing you need to do is set up your hydroponic system that fits your needs.
Some of the factors that are important to consider include space, what you want to grow, your budget, and the available amount of time you have to tend to your marijuana garden.
What Do You Need For Hydroponics?
Putting together a hydroponics system may not be the easiest process however, if you know exactly what equipment is required, then set it up is just a matter of following instructions.
To get started, these are the basic materials that you need to create your hydroponics system:
Plant chips
PVC pipe
50-gallon nutrient tank
Plastic tubing
Water
Expandable clay pebbles
Stand and Trellis made of PVC pipe
Pump
Planting cups
Hydraulic system fertilizer
Plants
Twine
The are various hydroponic systems on the market; however, the following are recommended for beginners.
WICK Systems
Mechanically these are the simplest systems. Not only are they easy to set up, but there are no moving parts.
There is a container system filled with water and nutrients, and above that, you find a growing medium inside another container.
Both containers are connected by a wick and the nutrients are transferred to the medium which is then absorbed by the roots of the plants.
It's great for learning the basics, however not recommended for large plants.
Water Culture
Another straightforward system is the water culture system.
It's easy to set up, and plants are placed in a Styrofoam platform that sits on top of a container holding the solution of nutrients and water.
It makes use of a bubbler air pump that's added to the reservoir and takes oxygen to the plants. It is suited for plants that require lots of water.
Ebb And Flow
This is a more complex design but still versatile. A water or nutrient solution is used to flood the growing medium and then drain it back into the reservoir.
The system uses a submersible pipe with a timer to do this.
One of the advantages of using the system is at the timer can be used to customize your plants based on the temperature, humidity, and the number and size of your plants.
Nutrients For Marijuana Growth
The nutrients that are used in hydroponic systems are available in dry and liquid forms, as well as both synthetic and organic types.
Both types can be dissolved into the water to make a nutrient mixture that's needed for your hydroponics system.
Ultimately, irrespective of what product you use, it should contain the macronutrients, potassium, nitrogen, calcium, phosphorus, magnesium, and important micronutrients such as manganese, zinc, iron, boron, Molybdenum, chlorine and copper.
These nutrients are designed for hydroponic gardening, and in order to have good results, you should follow the directions on the package.
Avoid using standard garden fertilizes with hydroponics systems because their formulas are created to be used with garden soil and not hydroponic mechanisms.
Hydroponic nutrients should be designed to suit your specific needs.
Required Measuring Instruments
Although it's not rocket science to grow marijuana, it is an industry that operates with measurements, and therefore, certain instruments should be in a growers toolbox.
If you would like to grow an exceptional yield each and every time, there are tools you need to measure pH levels, nutrients, etc.