Almost everyone who has smoked marijuana either recreationally or for medical reasons has had the thought at one point and time: I wonder if I can eat my weed raw? The truth is a little more complicated than simply stating you can, but it's not recommended. For one thing, it doesn't taste all that good, and secondly, it will not be processed in your digestive system in a way that will get you high or alleviate your symptoms.
However, you can eat cannabis, just not in its raw form. Cannabis has been incorporated into cooking and into drinks for millennia. Before the legalization movement, it was placed into brownie batter and into cake mixes. Today, there is a lot more choice when it comes to edibles. Cannabis is now found in teas, sodas, coffees, gummy bears, candies, luxury chocolates, and of course, the old go-to, baked goods. 
It is important to realize that eating an edible has a completely different effect than smoking or vaping your cannabis. If you've never tried cannabis before and are hesitant about smoking or vaping, edibles are definitely a way to go. Even those who have smoked or vaped cannabis need to be aware that edibles can affect them differently. 
Believe it or not, smoking and eating weed give off two completely diverse affects. While some people prefer smoking a blunt, there are actually people who would rather eat edibles. But I'm not talking about baked goods that consists of weed… I'm talking about eating straight weed. If you've tried it before, you know exactly what goes down and how different and more intense the feels are compared to edibles. But, for some reason, you're considering eating weed like it's a piece of romaine lettuce, this is what goes down when you a lot of eat weed.
Raw marijuana
Though you can eat raw weed, it won't have the same effect as consuming marijuana-based products, as marijuana has to go through a process known as decarboxylation to become activated (6Trusted Source).
Raw marijuana contains tetrahydrocannabinolic acid (THCA) and cannabidiolic acid (CBDA), compounds that must be exposed to heat, such as in smoking or baking, to turn into the active forms, tetrahydrocannabinol (THC) and cannabidiol (CBD).
Therefore, eating raw weed will not result in the same effects as consuming weed that has been heated, as in edible products like candies, tinctures, and baked goods.
Though you can't get high from eating raw weed, some health experts believe that eating it may offer some health benefits due to the wide array of plant compounds it contains.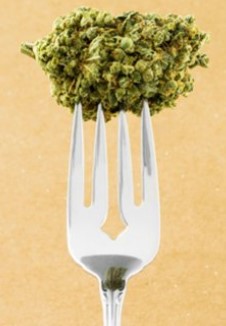 Yet, research in this area is lacking, so the potential therapeutic benefit of raw marijuana is still unclear.
Weed has been consumed in various forms throughout history for both medicinal and recreational purposes. Though you can eat raw marijuana, it won't have the same effects as marijuana that has been heated.
Why doesn't raw Cannabis have an effect?
In order for marijuana to have the effects that most people are looking for, it needs to go through a process called decarboxylation. This is when the THCA in the plant is converted to THC the body can use. This is achieved by applying heat through a flame or a vaporizer. The best way to eat cannabis is infused in an edible, such as the ones that can be purchased at places like The Amsterdam.
When it comes to edibles, they are made using a few different processes. The first is when ground cannabis flowers are added to unsalted butter, heated and allowed to melt, then allowed to cool and harden once again. This butter can then be substituted into any recipe that calls for butter. The second process involves blending ground cannabis flower into cooking oil, which can then be used in cooking. When it comes to cannabis drinks, a few drops of concentrated cannabis oil are generally added to the drinks during the manufacturing process.
Marijuana cookies with a marijuana flower; image by Margo Amala, via Unsplash.com.
In any of these methods, heat is generally applied, releasing the THC and other cannabinoids into a form that the body can process and utilize. 
How is eating and drinking foods that contain marijuana (edibles) different from smoking marijuana?
Because marijuana contains tetrahydrocannabinol (THC), there are health risks associated with using marijuana regardless of the how it is used. Some of these negative effects include having difficulty thinking and problem-solving, having problems with memory, learning and maintaining attention and demonstrating impaired coordination. Additionally, frequent use can lead to becoming addicted to marijuana. However, some risks may differ by the way it is used.
Smoke from marijuana contains many of the same toxins, irritants, and carcinogens as tobacco smoke. Smoking marijuana can lead to a greater risk of bronchitis, cough, and phlegm production. Whereas, edibles, which take longer to digest, take longer to produce an effect. Therefore, people may consume more to feel the effects faster. This may lead to people consuming very high doses and result in negative effects like anxiety, paranoia and, in rare cases, an extreme psychotic reaction (e.g. delusions, hallucinations, talking incoherently, and agitation).
What to do if you ate too much
This can happen, particularly with those inexperienced with cannabis at all or those inexperienced with edibles in particular. It can lead to a bad time, but the good news is that no one has ever died from a marijuana overdose. If you begin to feel too high, follow these steps:
Relax. It will pass.
Take some pure CBD, if available. CBD counteracts the high of THC.
Drink cold water. This will help combat dry mouth. Adding lemon zest, ginger, or mint leaves can help to settle the tummy and combat some of the psychoactive effects.
Netflix and chill. Otherwise, find a way to distract yourself from what you're feeling.
Sleep. Drink some water and get some quality shut eye. You may feel a little groggy when you wake up, but it's nowhere near as bad as a hangover.
Edibles provide a good way to ingest marijuana for those who need longer-lasting effects or those who are just averse to smoking or vaping. A little preparation, knowing what you're eating, and knowing the correct dose goes a long way into avoiding a potential overdose. Start small and work your way up to a higher dose and you'll soon find the perfect dosage and, hopefully, your favorite edible.
Even though eating raw marijuana doesn't get you high, there are many other benefits to eating the non-psychoactive form of the plant. If you do want to try this, make sure to start with a small amount in case it upsets your stomach.
There are also many ways for you to turn raw marijuana into an edible that can provide the effects you're looking for.