Brewing a batch cannabis stem tea is a great way to use all the dregs that are left over after you're done picking your marijuana buds apart.
Plus, it's a quick, easy, and environmentally friendly way to pull all the cannabinoids out of every inch of your plant matter.
In this article, the all-things-cannabis experts at Honest Marijuana introduce you to the world of stem tea. Along the way, we'll reveal the history, benefits, and side effects of this wonderful weed drink and give you an easy recipe for brewing stem tea at home.
Weed tea is used all over the world to treat a variety of ailments including asthma, nausea and chronic pain. Drinking your medicine in tea form delivers relief dramatically faster than smoking which is what makes it so effective at treating auto-immune diseases such as multiple sclerosis, irritable bowel syndrome, and rheumatoid arthritis. Cannabis tea also releases mood enhancers that boost overall positivity and reduce anxiety.
Tea is a great alternative for someone who doesn't enjoy smoking but still wants to soak up all the amazing benefits of cannabis. It is easy to dose yourself with tea, unlike other edibles that can make you feel out of control quite quickly.
What is Cannabis Stem Tea?
Cannabis stem tea is weed tea made exclusively with leftover stems that you can't use in other methods of ingestion.
As you'll see in the recipe section of this article, all it really takes to whip up a pot of tea (pun intended) is boiling water, patience, and, of course, weed stems.
History
Weed tea has been around for a LONG time. Chinese emperor Shennong is rumored to have discovered the health benefits of weed tea more than 4,000 years ago.
From there, the tradition of boiling various parts of the marijuana plant for medicinal and recreational benefits spread to India, Egypt, and eventually across the pond to the Caribbean.
It remained a popular — albeit, often-overshadowed — method of consumption because it's easy to do, it's discreet, and it doesn't require any complicated tools like a bong, a dab rig, or even rolling papers.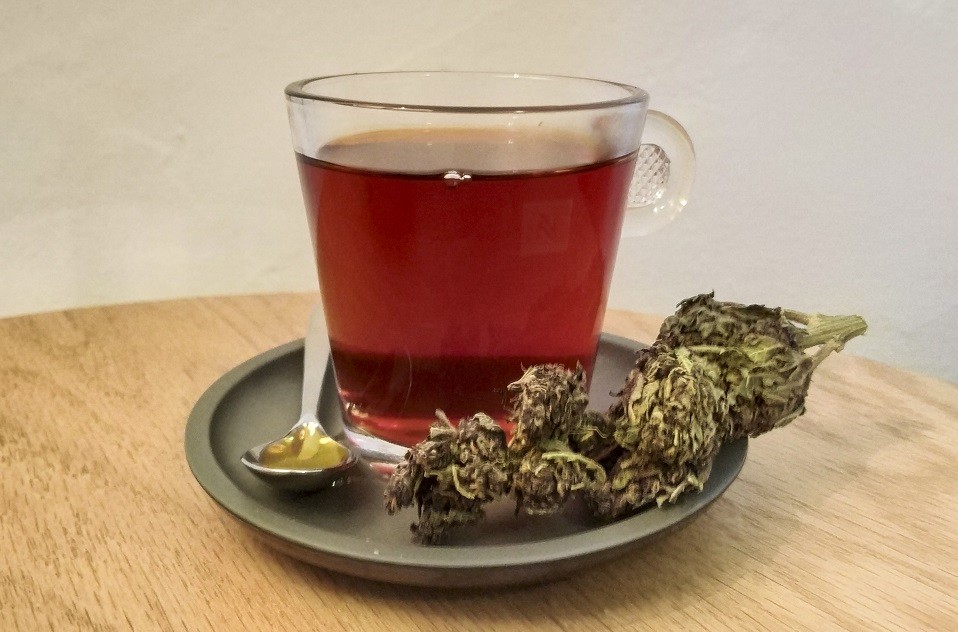 Benefits
The benefits you'll feel from this tea depend on what type of marijuana strain you use during the boiling process.
For the most part, regardless of whether you choose a THC or CBD strain, you'll experience a calming, sedative effect from your stem tea.
You might also feel other benefits, including relief from:
Anxiety
Depression
Headache
Asthma
Arthritis
Insomnia
Low appetite
Nausea
Stem tea really is a quick and easy way to get the medicinal perks you need to make it through the day.
Ingredients:
• ¼ – ½ cup of marijuana stems (from organic cannabis preferably)
• Additional shake and/or weed are optional to increase potency
• 3 cups of water
• Additional bag of tea to add flavour
• Coffee filter
Plus a binding agent:
2-3 tablespoons of alcohol of your choice or 1/2 cup of whole milk, coconut milk, or half-and-half or 1/2 tbsp of butter/coconut oil
Method
Step 1:
To grind or not to grind?
Some recipes recommend grinding your stems before steeping. Grinding creates more surface area which could theoretically increase the potency, however, experience tells me that the difference is negligible. Also, I find that grinding the stems makes the whole process messier; so if you want a quick and easy tea, feel free to skip the grinding step. An easy compromise is to break up the stems with your hands.
Step 2:
Depending on what you have handy in your kitchen, you can either grab a teapot or a regular saucepan. Fill up the pot with 3 cups of water. If you don't drink alcohol, you can add 1/2 cup of milk / half-and-half, or a 1/2 tbsp of butter / coconut oil, at this time. I find alcohol to be the best binding agent to enhance the potency of weed tea. If you choose to use alcohol, add it after the boiling process (so it won't evaporate while boiling). Bring the concoction in your pot to a boil.
Step 3:
Once it has reached the boiling point, add the stems and let boil for 7 to 10 minutes, stirring frequently. If you have a reusable tea bag large enough for your stems, put it to use for an easier straining process. If you're looking for an exceptionally potent tea, add some additional trim, shake, or ground nugs during this step.
Step 3:
Once it has reached the boiling point, add the stems and let boil for 7 to 10 minutes, stirring frequently. If you have a reusable tea bag large enough for your stems, put it to use for an easier straining process. If you're looking for an exceptionally potent tea, add some additional trim, shake, or ground nugs during this step.
Step 4:
Once the tea is thoroughly infused, remove it from the heat. If you chose to use alcohol, now is the time to add a couple tablespoons of the alcohol of your choice (rum is a nice and sweet-tasting addition).
Step 5:
If you used a tea bag, just remove the bag and your tea is ready! Without a teabag, the next step is straining the tea. Grab that coffee filter and let's separate that yummy tea from the used stems. If you used a teapot, it's easy to secure the coffee filter around the spout with a rubber band, or place the filter inside the teapot. If you used a saucepan, you can secure the coffee filter around a mug to strain your tea.
Step 6:
Once your tea is strained, you can add a variety of extra goodies to enhance the flavour. Our girl Mary always said, a spoonful of sugar helps the medicine go down — honey and/or raw sugar will make your medicinal tea taste amazing. If milk or half-and-half were used, adding a bag of organic chai tea or turmeric tea will bring your brew to another level. If alcohol was used, I recommend adding a strong bag of fruity or floral tea like passionfruit.
How long will stem Tea Stay in your system?
Don't play coy with us. We know exactly what you're thinking when you ask how long the cannabinoids in a cup of stem tea will stay in your system.
You're wondering if you should be worried about that drug test coming up next week.
Honestly, this is a complicated question that involves chemistry, biology, physiology, body mass, individual differences, types of drug tests, THC metabolites, testing sensitivity, and more.
In the meantime, we'll give you the gist in the next few sections.
CBD Stem Tea
If you're imbibing stem tea made from high-CBD/low-THC strains such as Charlotte's Web, Cannatonic, or Sour Tsunami, you've got absolutely nothing to worry about.
Even if you wear a CBD patch while popping CBD pills and guzzling a 64-ounce CBD coffee at work in front of your boss, you'll be fine.
No one really cares how much CBD you take because that particular cannabinoid won't get you anywhere near stoned. In fact, it might actually make things clearer for you thanks to its numerous medical benefits.
On top of that, there's not a drug test on the planet that looks for CBD. So, unless you're abducted by aliens with a penchant for cannabidiol, you're good. Obviously, if that does happen, you'll have more to worry about than how long the CBD stem tea stays in your system.
The only real point to keep in mind is that some high-CBD strains do contain trace amounts of THC (the stuff that does get you stoned).
Even if there's not enough THC in your stem tea to make you feel even the least bit different, it can collect in your system to the point that a drug test will detect it.