For some it's a well-known fact, while for others, it remains a questionable mystery, but the weed hangover is a more common phenomenon then you may think. Similar to other types of hangovers, a weed hangover is when you experience a range of effects from brain fog to headache after the high from consuming marijuana has worn off.
To get a full understanding of the weed hangover, let's explore the limited studies that have been conducted and symptoms cannabis consumers have experienced, and dispel some of the common misconceptions passed down from one person to the next.
Cannabis hangover studies
There is little research when it comes to this topic, which is unsurprising given prohibition's restrictions on cannabis studies. That said, a few studies do exist that can serve as a jumping off point to coincide with anecdotal reports of weed hangovers.
A cornerstone study was published in 1985. Researchers used a very small sample size of only 13 participants to conduct their experiment. The participants—notably, all men—were given either placebos or joints containing cannabis with 2.9% THC. They were then presented with a number of behavioral tasks after smoking, such as card sorting, free recall, and time production.
The subjects were tested again after a full night's sleep. Researchers noticed a residual effect in only the cannabis consumers and stated, "the findings suggest that marijuana smoking can produce residual (hangover) effects the day after smoking. The precise nature and extent of these effects, as well as their practical implications, remain to be determined."
This study's results were concluded to be significant (P value < 0.05). That said, there is room for critique due to the study's small sample size and lack of diversity, leaving definite room for improvement.
Another study from 1998 with a similar sample size of 10 participants—again, all men—studied the residual effects of smoking a single joint and found that "residual effects of smoking a single marijuana cigarette are minimal." While the results of this study were concluded to be significant, once again, it had a very small sample size, lacked diversity in the test subjects, and only looked at the effects of a single joint.
Most anecdotal accounts from consumers who have experienced a weed hangover report much higher consumption rates, particularly when consuming RSO and other potent products such as edibles. While there is some evidence to corroborate the anecdotal accounts of those who have experienced a cannabis-induced hangover, more research is needed to truly understanding the phenomenon.
What could cause a weed hangover?
As studies on this topic suggest, a weed hangover (much like other hangovers) is most commonly linked to overconsumption. However, because cannabis is such a unique plant that can affect each person differently depending on strain, tolerance, THC content, and body chemistry, what's too much for one person may be just enough for another. Therefore, the mantra "start low and go slow" stays true.
Anecdotally, as stated above, many of those who have experienced hangover symptoms report having used edibles or extracts. According to those consumers, the phenomenon seems to be far less common as a result of more traditional consumption methods such as smoking. With that in mind, some may find weed hangover symptoms are a result of waking up with a lingering high, due to the slow rate at which products such as edibles metabolize in the body.
Whatever your method of consumption, it may simply come down to a reduction in dosage to find a more even high that does not cause unpleasant lingering effects.
Are they preventable?
The only way to guarantee you won't have a weed hangover is to avoid weed. Still, there are plenty of things you can due to minimize the negative effects of weed.
Avoid smoking weed the night before an important activity. If you tend to experience weed hangovers, try to avoid using marijuana the night before something important, such as an exam or stressful day at work.
Take days off. If possible, avoid using weed on a daily basis. Continuous weed use can build up your tolerance, which might eventually trigger withdrawal symptoms in the morning.
Limit your use. You might be more likely to experience a weed hangover if you overconsume. Decide on an appropriate quantity before you get high, and stick with that.
Try low-THC marijuana. THC is the active ingredient in weed. No one's totally sure how THC affects weed hangover symptoms, but it's worth trying low-THC strains to see if they help prevent morning-after symptoms.
Use caution when trying a new product. You might find you react differently to weed depending on the dose, concentration, and method of delivery. When trying something for the first time, start with a low dose.
Don't mix it with other substances. The morning-after effects of weed might be more intense if you tend to smoke weed while also drinking or using other drugs.
Talk to your healthcare provider about the effects of weed and medication. Remember that any over-the-counter or prescription medication you take can interact with weed. This could affect how you feel in the morning.
When to get help
Contrary to popular belief, weed can be addictive. The more often you use it, the more likely you are to become dependent on it.
If you regularly experience weed hangovers, they could be a sign that you're overdoing it. If you're having a hard time curbing your use, it may be time to reach out to your doctor for help.
Other potential signs of weed misuse include:
using it on a daily or near-daily basis
experiencing cravings for it
spending a lot of time thinking about it or obtaining it
using more over time
using more than you intended
continuing to use it despite negative consequences
keeping a constant supply
spending a lot of money on it, even when you can't afford it
avoiding situations or places where you can't use it
driving or operating machinery while high
trying and failing to stop using it
experiencing withdrawal symptoms when you stop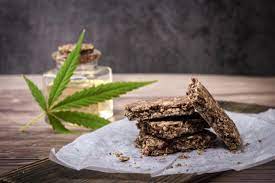 What is a weed hangover?
Weed hangovers occur when you consume more than your personal limit of marijuana. Only you know exactly what that means for your body as tolerance levels vary greatly from one individual to another. Some other factors that influence whether you get a hangover and what the severity will be include the strain you consumed and the tetrahydrocannabinol (THC) content. Cannabis with higher levels of THC makes hangovers more likely, especially if you have consumed beyond your tolerance level.