If you're looking for the healthiest way to smoke cannabis, keep in mind that there's no totally safe way to do so — even with the purest, most pesticide-free bud. Cannabis smoke contains most of the same toxins and carcinogens that make tobacco smoke harmful to your health.
There are, however, methods that may be slightly less harmful than others. Here's a look at how different methods compare, plus some smoke-free alternatives to consider.
To vape or not to vape?
The dangers of smoke inhalation are well known, so it's not surprising that a lot of folks assume vaping is the healthier alternative to smoking. Unfortunately, it's not that simple.
There's mounting evidence that vaping can have serious health effects. Much of the concern comes from inhaling vitamin E acetate, a chemical additive found in many vaping products containing tetrahydrocannabinol, or THC.
The additive has been linked to thousands of cases of e-cigarette, or vaping, product use-associated lung injury (EVALI) and death, according to the Centers for Disease Control and Prevention (CDC)Trusted Source.
However, this risk seems to apply only to vaping concentrates, not flower. A 2006 study suggests that vaping actual cannabis, not concentrate, is less harmful to your respiratory system than smoking. Still, research on vaping cannabis is pretty limited.
Lung health aside, there's also a matter of potency. People who vape cannabis reportTrusted Source experiencing stronger effects — regardless of the amount of THC in the product — than they do when smoking. This means a higher chance of overdoing it, or greening out, when vaping.
Don't bongs filter out the bad stuff?
Maybe a teeny, tiny bit, but nowhere near enough to make a difference.
Bongs offer a smoother toke because you don't get the dry heat from smoking cannabis rolled in paper. Though it feels less harsh when you inhale, your lungs don't know the difference.
What about joints and blunts?
Well, both still involve inhaling smoke, so there's that. But if you had to choose the lesser of two evils, joints are probably the better option. This is because blunts are made with hollowed-out cigars, and cigars and their wrappers are highly toxic.
Even after removing all the tobacco from a cigar, cancer-causing toxins, such as nitrosamines, can remain. Plus, cigar wrappers are more porous than rolling papers, so the burning is less complete. This results in smoke with high concentrations of toxins.
Then there's the matter of size. Blunts are a lot bigger than joints, and they hold way more pot. Smoking an entire blunt is like smoking roughly six joints.
Where does dabbing fall in all this?
Dabbing is supposed to give you a "cleaner" high, but what does that actually mean? Not much.
Budder — another name for dabs or marijuana concentrate — delivers a lot more THC than other weed products, often as much as 80 percent more.
Dabbing is still pretty new, so experts still don't know the full impact.
There's evidence that exposure to high THC may lead to long-term mental health effects, like psychosis. The risk of misuse and addiction is also higher when using high-THC products, especially for young people.
Plus, unless you have high-tech lab equipment and are trained in extraction, your dabs may be far from pure. ResearchTrusted Source shows that dabs can contain contaminants and residual solvents that can to neurotoxicity and cardiotoxicity.
Dabbing also has respiratory effects, even though you're not technically "smoking." There have been casesTrusted Source of people developing lung damage from dabbing.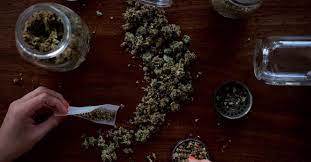 Joints and pre-rolls
A joint contains cannabis flower that has been rolled up in a thin sheet of smokable paper. The paper is usually made from hemp, rice, or wood pulp. A pre-roll is a joint that's ready to smoke because it was already rolled by a cannabis vendor, dispensary, or brand.
Joints are a popular way to smoke cannabis because of their simplicity. One of the advantages of smoking joints is that they are composed solely of cannabis and leave tobacco out of the mix. Joints contain nothing but cannabis and the paper it has been rolled in.
However, joints still require combustion, which carries risks. Cannabis smoke theoretically could be just as harmful as tobacco smoke. According to the American Lung Association, cannabis smoke contains many of the same toxins and carcinogens as tobacco smoke.
When smoked, cannabis produces about 4,000 chemicals that are mostly identical to tobacco. Smoking cannabis also entails a puff volume that's two-thirds larger than tobacco, an inhaled volume that is one-third larger, and a breath-hold almost four times the length of tobacco, which can increase the concentration of carbon monoxide in the blood by up to five times. The heat produced by the combustion of dried flower can irritate the lungs, provoking side effects such as respiratory infections, including chronic bronchitis and other illnesses.
Another issue to be mindful of is the composition of your rolling papers. Papers containing chemicals or toxins can further increase exposure to undesirable carcinogens. Opt for rolling papers from trusted brands.
Blunts
A blunt is a cigar that has been emptied of tobacco and refilled with cannabis. Generally, blunts are rolled with tobacco leaf wrappers and are longer and thicker than joints.
The tobacco in the blunt wrapper contains nicotine and a host of other chemicals that have been associated with a range of adverse effects, including cardiovascular and circulatory disorders and cancers. Cigar wrappers also contain high concentrations of cancer-causing nitrosamines. The porosity of these wrappers also plays a role in safety; research indicates that more porous paper increases the carbon dioxide yield in the smoke.
Nicotine is also an addictive substance. Both cannabis and tobacco use can lead to dependency.
Blunts provide a slower burn than a joint and contain significantly more pot than a joint because you can pack a lot of flower into a cigar wrapper. In a 2009 study published in Inhalation Toxicology, researchers found that tobacco increases the vaporization efficiency of THC by as much as 45%. Blunts, therefore, can make it significantly easier to get high quickly.
Bongs
A bong is a water pipe used to smoke cannabis. The smoke is filtered through the water and travels through a tube to the mouthpiece where the user inhales it. The water-filled chamber can filter smoky soot from the burning cannabis. Bongs don't necessarily filter out more tar though, so they may actually increase tar build-up in the lungs.
There's a common misconception among smokers that a water bong represents a safer inhalation method because water helps cool the smoke. It is true that the reduced heat feels less harsh and cooler smoke goes down smoother, so it's easier to gulp down a lungful and hold it longer.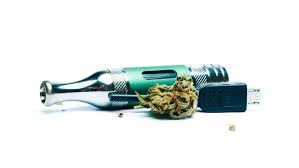 However, exposing the lungs to smoke for longer periods can scar and damage lung tissue. Damage can lead to respiratory illness, asthma, and more serious conditions like cancer. Bong use has also been linked to necrotizing pneumonia, which causes irreversible damage to pulmonary function.
Bongs also tend to encourage people to puff harder to get the THC hit, as the water filters out some of the THC content. Users then need to smoke more to reach their desired effect.
Bongs also carry another caveat — they're often shared at parties or in friend circles. That can be a problem when what's also being shared are infectious illnesses. There are case reports of users contracting pulmonary tuberculosis from sharing a bong, so refrain from swapping spit and keep your bong to yourself.
If using a bong is your thing, make sure you opt for a high-quality glass or stainless steel. Avoid bongs with plastic bottles, rubber hoses, or aluminum components. Plastic is particularly problematic because it contains compounds like phthalates and BPA, which have been connected to serious adverse effects. Heating plastic can release even more undesirable toxins that you want to avoid inhaling with your cannabis hit.
And you don't have to toke so hard. Taking shallow puffs rather than deep inhalations means you can reduce lung exposure to smoke. About 95% of the THC in the smoke is absorbed in the first few seconds, so there's no need to puff hard or hold your breath.