What is hemp?
A variety of Cannabis sativa L, hemp is a dioecious plant, which means it can be separated into male and female plants. These plants have served a wide variety of purposes for more than 10,000 years. We get fiber from the plant's stems, protein from the seeds, oils from the leaves, and oils from the smokable flowers. Hemp fibers can be used to make items including paper, clothing, textiles, rope — even building materials.
The whole hemp plant, from stalk to seed, can also be used to make fuel and feedstock. For more specific applications, hemp can be divided into four categories:
Bast fibers
Hurds, or shives
Leaves and flowers
Seeds
Hemp vs. marijuana: Does hemp also have THC?
Hemp produces a broad range of cannabinoids, including tetrahydrocannabinol (THC), the intoxicating cannabinoid in marijuana. However, hemp does not produce enough THC to create intoxicating effects. 
Although hemp doesn't produce a significant amount of THC, it is capable of producing the non-intoxicating cannabinoid cannabidiol (CBD) in high concentrations. In fact, hemp-derived CBD is rapidly becoming one of the most popular forms of the cannabinoid on the market today. 
Many countries differentiate hemp from marijuana by the amount of THC produced by the plant. In the US, industrial hemp is defined as Cannabis sativa L. that does not contain more than 0.3% THC. The European Union has set the limit at 0.2%, while in the UK the limit is zero, unless growers have a cultivation license to grow industrial hemp with no more than 0.2% THC.
What is hemp used for?
CBD oil is extracted from hemp leaves and flowers. More and more people are experimenting with CBD oil extracted from hemp plants as a wellness supplement, hence the ever-growing popularity of CBD-focused cultivation.
Hemp fibers are primarily used for textiles, paper, building materials, and other industrial products. Raw materials such as hurds, or shives, are short woody fibers typically found inside the stalk. They're used for making bedding materials, absorbents, particleboard, ceiling panels, compost, and other industrial products.
Bast fibers make up the outer portion of the stalk and are typically split into three categories — primary, or line fiber, secondary, and tow. They are categorized according to their cell strength and cell wall thickness, which will determine the fiber's strength, durability, and what it can be used for.
Uses of Hemp fiber
Coarse Hemp fibers and yarns are woven into cordage, rope, sacking and heavy –duty tarpaulins. In Italy, fine Hemp fibers are used for interior design and apparel fabrics. Hemp is used in tapestry, hats, shawls, rugs, posters, and towel.
Dyed hemp yarn from Hungary is suitable for rug weaving, placemats, crochet and other craft items. It has been found that 3 plies, 6 plies, and 12 plies are used for weaving, knitting or crochet. Hemp is stronger than linen and jute fiber, hence it is ideal for making twine, ropes, cables, carpets, canvas, ship cordage, sailcloth, etc. Central American Hemp is chiefly used for cordage. Manila "Hemp" is a fiber from the leaves of the Abaca plant; it is very strong, fine, white, lustrous and, though brittle, it is adaptable for the weaving of coarse fabrics.
Lastly, more research work has to be done on Hemp fiber like scouring/bleaching using enzymes without affecting the strength of the fiber.
Trials can be taken in cotton and synthetic spinning by adding Hemp fiber in many value-added items and make various types of fancy yarn which can be sold in the market at a premium rate.
Acknowledgment – The author is thankful to Mr. Subhash Bhargava FSDC (UK) MD, Colorant Ltd., Ahmedabad for giving permission to publish this article.
How Hemp Fibre Is Produced
Fibre from the industrial hemp plant is one of nature's wonders – it's used in everything from stuffing furnishings to high quality textiles.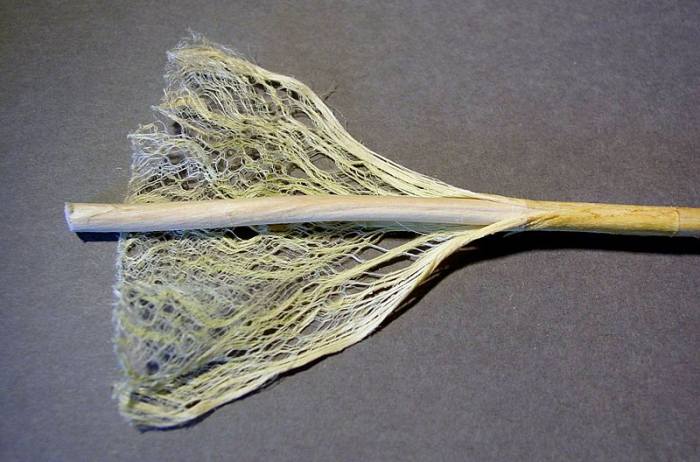 The image above shows a hemp stem. The outer material contains the prized bast fibers and the inner is the hurd, which is made up of short fibers.
There are three main stages of producing fiber from industrial hemp – harvesting, retting and separation.
Harvesting
The quality of hemp fibre depends greatly on whether the crop was grown primarily for textiles, or is dual-purpose. Dual purpose crops produce fiber and seed; with the seed being used for food, biofuels and other applications.
A crop grown specifically for fibre will generally produce a higher quality product than a dual-use crop.
The time at which industrial hemp is harvested is also crucial in the quality of the fiber produced. Hemp grown specifically for this purpose is usually harvested 70-90 days after seeding; early in the flowering stage and well before seed is produced.
Dual purpose hemp crops are harvested later and the fiber isn't usually used for textiles; but instead for pulp, paper and non-woven products due to the higher lignin content.
When harvesting, the plants are cut at 2 to 3 cm above the soil line and then allowed to dry for a few days.
Retting
Retting is a process involving the use of moisture and microbes to break down the chemical bonds (pectin) holding the hemp stem together, enabling easier separation of the bast from the woody core (the hurd or shiv).
Retting can be carried out a number of ways:
field retting, where the hemp is left to decompose to a degree naturally through the action of dew, molds and bacteria. This can take anywhere from 4 – 6 weeks depending on the weather and must be closely monitored.
water retting, through full immersion
direct use of enzymes
Once the retting process is complete, the stalks are dried to a moisture content of less than 15% and bailed.
Fibre Separation
In a process called "breaking", stalks are passed between fluted rollers to crush and break the hurd into small pieces, separating some of the fibre in the process. Once a very involved and labor intensive process, separation of the bast from the hurd has been somewhat simplified through a machine called a decorticator. The following video demonstrates a portable decorticator used with another type of plant (jute or kenaf).
Decorticators enable the leaves to be left on the stalks during the breaking, although this makes for a messier process requiring more sorting after completion.
A further process called "scutching" beats and scrapes the fiber bundles, separating more short fiber and the remaining hurd material from the long fiber.