When starting out as a cannabis grower, "flushing" is a term you might be unfamiliar with. Although visions of frantically trying to shove a cannabis plant down a toilet may come to mind, flushing is actually when you stop feeding the plants nutrients and simply give them water. The process is generally as easy at it sounds; however, knowing precisely when to flush and how often is a more refined skill.
When to flush cannabis plants
There are three primary instances when flushing your cannabis is appropriate:
Transitions between feeding and growth cycles
Nutrient lockout
Pre-harvest
Changes in nutrients
Cannabis plants have different nutrient needs throughout different stages of growth; what it needs in its vegetative stage is different than what it needs while flowering. Clearing old nutrients during the transition into the new stage of growth will help kickstart the plant's journey into flowering.
Think of it as someone changing their diet. You can fill your fridge with new types of food, but you might find yourself running out of room if you never removed the old food. By removing the old food, you are clearing a path and starting anew.
Nutrient lockout
Overfeeding cannabis, improper pH levels, and other stresses on your plants can result in a nutrient lockout. Whether it's salt buildup from nutrients or pH levels that prevent absorption, a nutrient lockout results in a buildup of nutrients in the soil while the plant cannot access them.
Flushing your plants will remove excess buildup of salts and nutrients while helping to restore the soil's pH balance. This will allow your garden to resume absorbing nutrients and grow at a healthy, successful rate.
Pre-harvest
Your final flush should occur before harvest. This will force the plant to use the nutrients stored within itself in the final week or so. If its nutrient reserves are not used by the plant or broken down, they will affect the quality of your harvest's smoke and flavor.
THE BEST TIME TO FLUSH YOUR CANNABIS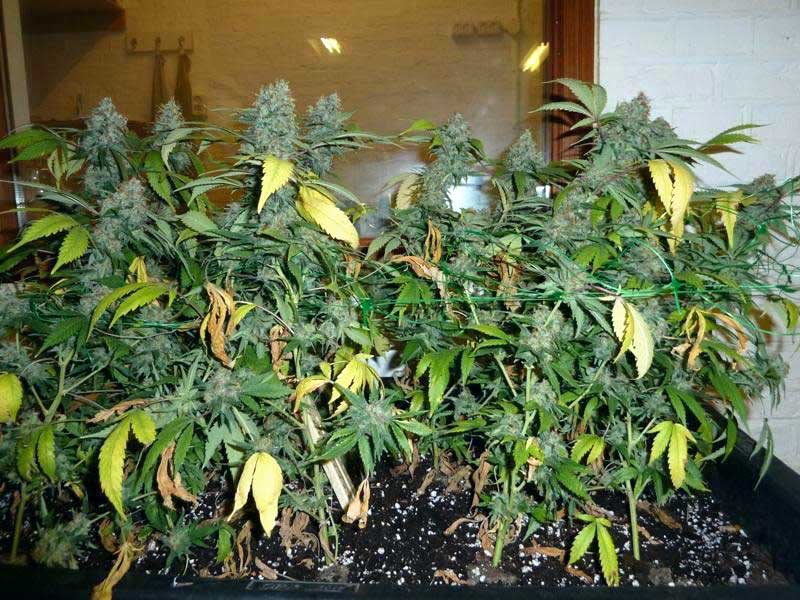 Flushing is usually commenced two weeks before harvest. If the plant has an eight-week flowering period, the flushing will need to take place six weeks after the start of the flowering stage. It is best to take a close look at the trichomes on your plant to assess when your cannabis is likely to be ready for harvest. If the tiny trichomes are just beginning to turn from clear, to a cloudy and milky colour, this could be a good indication that the plant can begin flushing. It should be timed so that the majority of trichomes will have fully changed to the desired colour for harvest after two weeks – this gets easier with experience, so stick with it!
Flushing can also be a good way to reset the soil while a plant is in the vegetative state. Sometime, growers will accidently overfeed their cannabis, causing the tips of the leaves to begin changing colour and shriveling. This is called "nutrient burn". Flushing the soil can remove the excess nutrients, helping avert the problem. However, it is a drastic measure at this phase of growth, so be sure that the problem is nutrient burn, and not something else first.
Flushing isn't exclusive to harvest time. The technique can also be used in the vegetative phase to remove excess nutrients from the soil. Sure, nutrients keep your plant healthy and ensure optimal yields, but too much can cause nutrient lockout—a state where plants can't access nutrients.
Nutrient lockout can be caused by both salt buildup and incorrect pH levels. It can be solved by flushing affected plants with plain water. The fluids push nutrients out of the soil and wash away the buildup, allowing roots to once again freely uptake nutrients.
How to flush cannabis plants
Once again, flushing cannabis simply involves running pure water though the soil or medium. When trying to stop a nutrient lockout or when switching nutrients, perform a flush by excessively watering your plants with water that has a pH level between 5.5-6.5 (for hydroponics) or 6.0-6.8 (for soil). Fully saturate your pots, and repeat 15 minutes later. The flush should clear any blockage and make room for your new feeding schedule.
To be certain a flush was successful, you can use a TDS (total dissolved solids) reader to determine how pure the water runoff is. You want the TDS reading of the water draining out of the pot to be close to the TDS reading of the pure water you are flushing with. This reading will ensure that the nutrients have been washed out of the soil.
When looking to perform a flush before harvest, there are more factors to consider. Make sure your plants will be ready for harvest once the flush is complete. Flushing too early or too late will result in a lower-quality product.
Different growing mediums require different flushing time frames before harvest:
Soil: 2 weeks
Rockwool and coco: 1 week
Hydroponics: 1 week or less
By paying attention to the trichomes on your plants, you'll be able to tell when your plants are ready for a flush. If flushing two weeks prior to harvest, you should begin when you start seeing the first trichomes turn milky.
When not to flush cannabis plants
The only time flushing is not encouraged is when you are growing in amended organic soil. This is because your soil already holds all the nutrients the plants need to thrive. By flooding the soil, you can wash away and damage the complex ecosystem that you've worked so hard to develop in the soil itself. Furthermore, these plants almost always receive pure water during waterings. The nutrient uptake by plants in this environment is natural, diverse, and easy for the plant to process.