If you are growing marijuana for medicinal purposes, you need to know how to identify female and male marijuana plants. Almost all growers prefer female marijuana plants because only females produce the coveted buds needed for medicinal purposes. Male plants have low potency and THC content compared to the female plants, and they are kept to mostly produce seeds.
In the world of plants, reproduction can happen in a variety of ways. Monoecious plants produce two different types of flowers on the same plant, and hermaphrodite plants grow single flowers that have both male and female reproductive organs.
Cannabis is a dioecious plant, meaning male or female reproductive organs appear on different plants.
With cannabis, females are usually isolated away from males—introducing males into a garden will result in pollination, causing females to create seeds.
This is important for a breeder to achieve new genetics, but most growers remove the males to allow females to produce seedless buds, also called sinsemilla. These are the resinous buds that appear on the store shelf; they all come from female plants.
Seeded buds are generally regarded as low-quality cannabis. When seeds are present, the smoke is harsh and unpleasant.
Female genetics can be guaranteed by obtaining clones and feminized seeds. If, however, you're working with regular seeds and are unsure of your seed's sex, knowing how to determine the sex of your plant is vital to developing new genetics, gathering seeds, or growing sinsemilla.
Sexing cannabis plants is easy. Let's see how to tell.
How to Determine Gender Before the Pre-Flower stage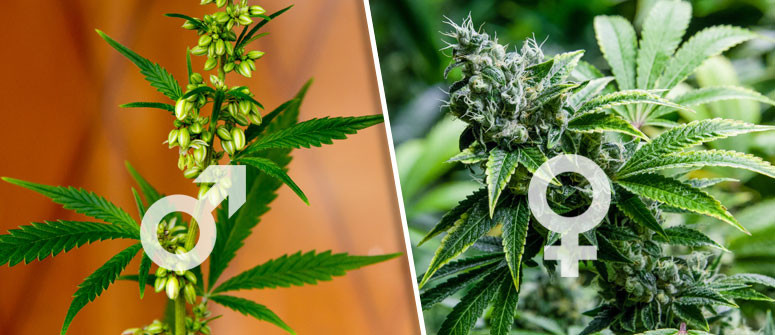 Lab genetic testing can determine a plant's gender as soon as it begins to sprout its second set of true leaves. Knowing sooner can help cultivators save money, increase canopy space, and decrease labor costs associated with transplanting, watering, monitoring, training, and removing unwanted male plants.
Just as humans have X and Y chromosomes, cannabis also has a genetics system that determines the plant's gender. However, figuring out the gender based on the DNA of a plant prior to the flowering stage is not as simple as looking for an X and Y. Luckily, the specific genetic sequence that differs between female and male plants has long been discovered, so using quantitative polymerase chain reactions (qPCR) allows labs to determine the gender of any plants with 100% confidence.
When a sample is brought in to Infinite Chemical Analysis Labs for gender identification, qPCR analysis is used to determine if the plant is female or male. A small hole is cut out of the leaf of the plant and added to a lysis solution to destroy the plant cell walls, exposing the DNA. After isolation of the DNA, it is transferred to another plate that contains reagents to amplify and cause the sample to create a fluorescent light that our qPCR instrument then quantifies, and determines the gender of the sample based on the amount of fluorescence.
Between sufficient lighting, proper nutrients, a detailed watering schedule, and constant monitoring, identifying the sex of your plants is another tedious yet crucial task that could make all the difference come harvest season.
How to determine the sex of a cannabis plant
Cannabis plants show their sex by what grows in between their nodes (where leaves and branches extend from the stalk). Pollen sacs will develop on a male plant to spread seeds and stigma will develop on a female to catch pollen. You can see these differences weeks before they actually start serving their purposes in the reproduction cycle. These are known as "pre-flowers."
Pre-flowers begin to develop four weeks into growth, but they may take a little longer depending on how quickly the sprouting phase occurs. By the sixth week, you should be able to find the pre-flowers and confidently determine the sex of your plant.
Pre-flowers can initially be extremely small and hard to identify with the naked eye, but you can use a magnifying glass to get a better look. Examine the nodes of the plant and look for either the early growth of small sacs on a male, or two bracts on a female, which will eventually produce the hair-like stigma.
Though there are other methods to determine what sex the plant is, examining pre-flower formation is the most reliable.
Removing males early on is important for two reasons: it frees up space in your garden so females can grow bigger and stronger, and it prevents males from pollinating females.
What are hermaphrodite cannabis plants?
When a female plant develops both male and female sex organs, it is considered a hermaphrodite. This means your cannabis plant is now capable of producing pollen that can pollinate your entire garden. "Herming out," as some call it, is something that generally happens when a plant becomes excessively stressed. Some plant stressors include:
Plant damage
Bad weather
Disease
Nutrient deficiencies
There are two types of hermaphrodite plants:
A plant that develops both buds and pollen sacs
A plant that produces anthers, commonly referred to as "bananas" due to their appearance
While both result in pollen production, true hermaphrodites produce sacs that need to rupture, while anthers are exposed, pollen-producing stamen.
Because this occurs when cannabis is under stress, it's important to monitor plants after they have been exposed to stressors—indoors: high temperatures or light leaks are often the cause; outdoors: a snapped branch might be repaired and then turn into a hermaphrodite.
The other primary cause of hermaphrodite plants lies in the plant's genetics. A plant with poor genetics or a history of hermaphrodite development should be avoided to protect your garden. If you notice any pollen sacs or anthers at any point, remove the plant from your garden immediately to prevent pollination of female plants.
If you're interested in pollinating portions of your crop, remember that pollen is extremely potent and very good at traveling. Keep your males intended for pollination far from your garden space and work carefully with that pollen.