Have you ever been stuck without a pipe or papers? If you've got cannabis and a lighter but no way to smoke it, you should try the time-honored art of creating a homemade bowl from an apple. The apple pipe is a simple solution and a better, more natural alternative than using an aluminum can or another makeshift device.
There are endless ways to create functional pipes from any variety of fruits and vegetables. To help you get by next time you're in a pinch (or if you just like to MacGyver your paraphernalia), here are five quick steps to turn an apple into a smoking pipe.
What is an apple pipe?
An apple pipe — sometimes called an apple bong — is a homemade pipe constructed from an apple that is used to smoke cannabis. Apple pipes are considered one of the healthier options for DIY smoking devices, especially when compared to constructing pipes of tin foil or soda cans. Discreet and inexpensive, the apple pipe is a favorite among cannabis consumers who have no papers or glass pipes on hand, want to easily dispose of consumption evidence, or don't want to go through the hassle of cleaning a traditional device. Read on to learn how to make your own apple pipe.
How do you make an apple pipe?
Crafting an apple pipe may seem complex, but in just a few simple steps you will soon be smoking cannabis out of your own healthy fruit.
Here's what you'll need to make and use a classic apple pipe:
an apple
a toothpick
a clean screwdriver or chopstick
weed
a lighter
Step 1: Gather the necessary supplies
Before you begin, make sure you have all your supplies together in one place. You'll want:
Cannabis (of course!)
Any variety of apple
Poking tool such as a knife, key, stick, or screwdriver to fashion the pipe
A lighter to spark your buds.
Step 2: Twist off the Apple's stem
Use your screwdriver or chopstick to poke a hole across the center of the apple. One hole will function as the base for your mouthpiece while the other will function as the carb.
Step 3: Carve out the bow
Use your toothpick to poke a few holes in the top of the apple far enough to intersect with the hole you just made through the center of the apple. This will allow air to flow from the bowl to the mouthpiece without letting flower fall through.
Step 4: Make the Pipe Mouthpiece
Make your mouthpiece by poking another hole on the face of the apple. The idea here is to connect the mouthpiece's chamber with the first chamber or hole you made for the bowl.
Step 5: Poke through Apple for a carb
To create a carb on your homemade bowl, keep pushing your tool all the way through the apple from the mouthpiece chamber. This step is optional but recommended since the carb will let air flow through the chambers you've made and clear any remaining smoke.
Step 6: Smoke Out of Your Apple Pipe
Lastly, it's time for you to load the cannabis and enjoy smoking out of an apple. Simply pack your bowl where the stem used to be and use like you would any other hand pipe.
Need some strain recommendations for your new apple pipe? Why not try these complementary flavor pairings!
Traditional apple flavors:
Apple Kush (hybrid)
Apple Jack (hybrid)
For a caramel apple taste:
Cream Caramel (indica)
Caramelicious (hybrid)
For a vanilla apple treat:
You can use all types of other fruits and vegetables to create a quick and easy smoking device on the go. Plus, when you're finished you have a healthy snack to combat any munchies!
What's your favorite way to make a pipe in a pinch? Do you use other fruits or veggies? Share your experiences in the comments below.
Apple Pipe 101
If you are not subscribed to a monthly box plan like buddabox to get every month a pipe or you don't know how to make a bong with the things you can find in your house, we can teach you how to make an old classic—the apple pipe. You've seen the apple pipe everywhere comic books to movies. However, not everyone has smoked out of an apple pipe, and not everyone knows how to properly make one.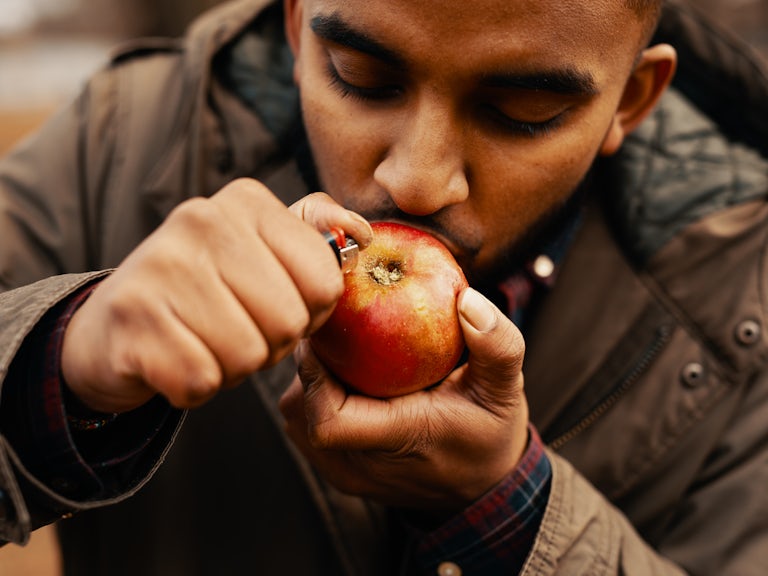 As you can probably imagine, crafting an apple pipe is extremely easy. In this tutorial, you'll see that all you really need is an apple, a toothpick, a pen, and some cannabis. This is far healthier and safer than homemade smoking items, such as smoking from a can.
The apple pipe is extremely effective and easy, and can be a great pipe for on-the-go. Just follow these simple instructions.
What You'll Need:
1 Apple
1 Toothpick
1 Pen
Instructions:
1. Remove the stem in the top of the apple. This hollowed apple top will act as a bowl. Don't put tinfoil in it. Just take your toothpick, and poke it straight down the centre of the hole where the stem used to be. Then, using the toothpick, poke about four to eight deep holes around the outside of the main toothpick-hole. These holes on the inside walls of the "bowl where the stem used to be will allow the smoke to more easily pull through the apple.
2. Empty out your pen so that all you have left is a hollow cylinder. Shove the empty pen cylinder into the side of the apple, so that it creates a long cylindrical tunnel that intersects with the vertical toothpick hole you created coming down from the top of the apple. While the pen is inside the apple, spin it around two or three times, then pull it out. You should notice that the empty pen is now filled with the innards of the apple, and the apple now has a clean cylindrical hole in it.
3. You can now remove the apple innards out of the empty pen, and stick the empty pen back in the hole. This can be used as the part you put to your lips when smoking the apply pipe. This may help distance your face from the lighter so you don't get burned. However, you can also put your lips directly onto the hole in the apple and just smoke from there. This is more natural and eliminates any possibility of inhaling plastic fumes. In the end, whether you use the pen or not is a personal preference.
4. Fill the top of the apple—the "bowl" where the stem used to be—with cannabis of whatever strain (gorilla cookies, skywalker og, etcetera). Put your lips to the other hole on the side (or the pen, if you've chosen to use it). Light the cannabis and inhale.
5. Exhale, and enjoy.