Have you ever wanted to try weed brownies but were vegan ? Have you ever just wanted to try vegan weed brownies for fun ? Well you came to the right place! This is the most straight forward pot brownie recipe for you vegan lovers. This recipe also includes a potency calculator at the bottom so you can estimate the power of your edibles before you take them!
This recipe requires the use of cannabis-infused cooking oil. If you don't have any or want to learn how to make it, check out our article on How to Make Cannabis-Infused Cooking Oil.
Let's talk about fats!
The function of fat in brownies is to increase moisture and richness. That buttery fatty mouthfeel you get when you bite into a fudgy brownie is, believe it or not, due to the fats! However, depending on the saturated fat content of the fat, how it's incorporated, and how much sugar is used, your brownie will end up cakey or fudgy. A traditional rich and fudgy brownie uses high saturated fat butter (84 percent fat solids), dark chocolate, and many eggs to increase the fudge factor. In our vegan brownies, we use coconut oil and dark chocolate to help increase the fat specifically.
Coconut oil has the highest saturated fat content of all vegan oils which helps retain the brownies' moisture while baking. The high saturated fat content also leaves that buttery mouthfeel behind. Its neutral flavour, as well as its ability to be turned into vegan cannabutter, makes it the ideal candidate for fudgy vegan brownies.
In this recipe specifically, we combine melted coconut oil with high quality melted dark chocolate for a few important reasons.
We can increase the saturated fat and fudge factor with the cocoa butter naturally in dark chocolate.
The sugar in dark chocolate, although minimal, also helps play a role in increasing water retention while baking.
Last, the extra chocolate increases that deep chocolate flavour we all love and crave in a fudgy brownie.
The chocolate is totally optional and you can get away with just using coconut oil. However, to make the best fudgy brownies ever, you need to add high quality dark chocolate.
All of this aside, one of the critical fat contributors to traditional brownies are eggs. Eggs are one of the most important ingredients that increase the fudge factor due to their natural lecithins. Lecithin is a molecule that binds to both fat and water equally. With lecithin present, water and fat get evenly dispersed around a treat, resulting in better consistency.
Since these are vegan, we need to increase the fudge factor in a cruelty-free way. Sweet potato is our favourite egg replacer for brownies because of its moisture content and mild, slightly sweet flavour. It manages to add weight to the brownie without causing it to boil (whereas increasing the oil content would deep fry the brownie), and the fibres of the potato help bind the brownie together. Milled flaxseed is our other go-to egg replacer as it also helps bind the brownie and increase moisture (the flax produces a sticky substance when rehydrated). We have found that flaxseed produces a slightly more cakey brownie and the seeds can get stuck in your teeth. So for the purposes of the best vegan gluten free fudgy brownies EVER, we recommend mashed sweet potato!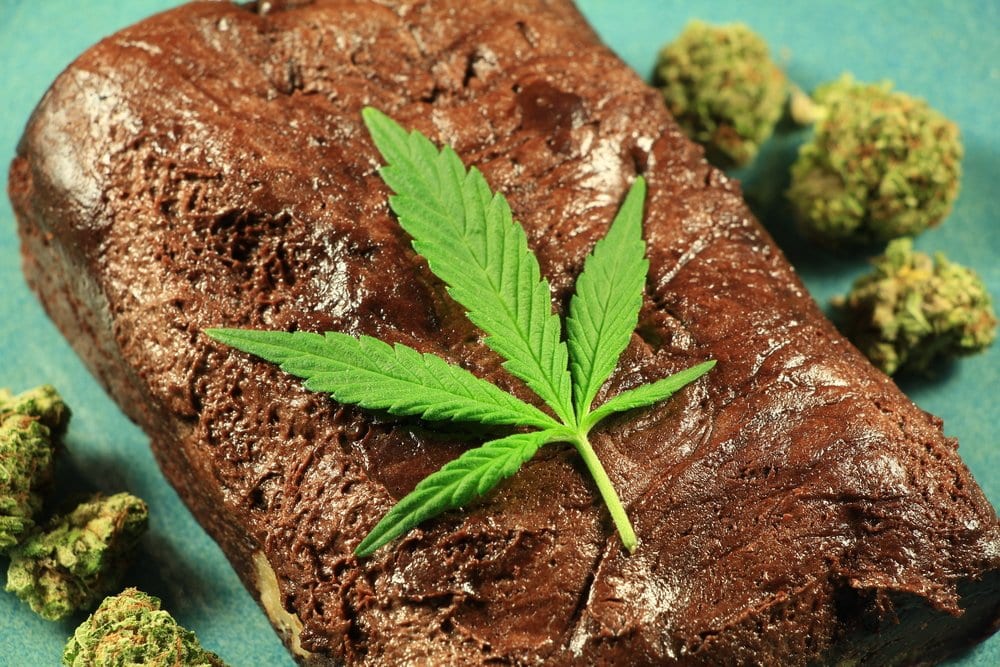 Last thing to note is how to incorporate the fats. If you have an electric hand or stand mixer, it is ideal to beat everything on low-medium speed for 2-3 minutes. That way the potato does not remain as large chunks, the fats get aerated, and everything becomes homogenous. You can use a spoon or spatula as well, but you may not get a result as consistent as you would with using an electric mixer.
Secrets From the Pros
If you want to take your brownie to the next level, here are some secrets from the pros for a really fudgy brownie:
Fudginess comes from a lack of mixing. Mix your wet ingredients well until homogeneous, but gently fold your dry ingredients in with a spatula. If you are using our baking mix, the flour blend has been formulated to be extra fudgy and rich (thanks to the chickpea and almond flour). If you are using wheat flour, be sure to mix minimally, just until the flour is fully combined and no dry pockets are present or else your brownies will be tough. If you are using another gluten-free flour, ensure that it is not primarily rice based or else your brownie will be gritty.
Before you incorporate the dry ingredients completely, add in some hot black coffee. The hot coffee will:

Increase acidity, helping the baking powder activate;
Improve the chocolate depth of flavour, due to the bitterness of coffee;
Use heat to help emulsify the flour into the fats and sugars;

Put a simple fudge on top. It helps diversify textures and improve chocolatey flavour and visual appeal of the brownies. Our fudge recipe is very simple to make thankfully, and will leave a beautiful glisten on your brownies.
Add chocolate chips or chopped walnuts to the batter. It will diversify the brownie texture, leaving a satisfying crunch to cling to while in the midst of fudge city!
Ingredients: (approximately 9 rations)
100g of dark chocolate
80g of coconut oil
30g of powdered cocoa, no sugar
50ml almond milk
45g ground almonds
2 bananas
1 spoonful of vanilla extract
10g of buds or 20g of resinous leaves
How to prepare:
To start making your delicious brownie, first you'll have to preheat the oven to 180°.
The next step is to place the chocolate, coconut oil and the completely ground up cannabis on a pan at low heat, stirring very slowly.
Once the chocolate is completely melted and the mixture has been made, take it off of the heat and add the cocoa powder, stirring slowly for about 10 minutes.
Add the almond milk, ground almonds, bananas and the vanilla extract and mix well (you can use a mixer) until the mixture is even.
Cover your baking tin in baking paper, put your brownie mixture into the tin and stick it in the oven for 30 minutes (this may depend on the type of oven you are using, check your brownies periodically)
After taking it out of the oven, let it cool for a good amount of time; if consumed hot, it might not sit well with your stomach.
Consuming cannabis in an edible form affects your body differently due a series of different processes. When you smoke, THC goes straight to your lungs and into your blood, making for an almost instant high. However if eaten the process is somewhat slower. THC has to go through your digestive system, and after a certain amount of time (45min to 1.30h) it gets transformed into 11-Hydroxy-THC. This substance is the most active part of THC, meaning that it has a much more potent effect than if you were to have smoked it.
We recommend not eating more than one portion and having some patience until the effects kick in, because if you decide to eat more to speed up the effect we can guarantee that you won't have a good time at all.