When you've used up your stash and have a pile of stems left, you may be tempted to smoke them up as a last resort. Don't do that. There are other ways to use these pesky stems that won't result in a massive headache and disappointment like smoking them would. Learning how to make weed stem tea is your best bet and requires little effort.
If you've made other weed tea, you have a general idea of what you're getting into. Weed stem tea will probably be much less potent than regular cannabis tea because the stems do not have high concentrations of THC.
Much like the Great Buffalo, it's possible to use every part of the marijuana plant — including those useless, useless stems that are always clogging your grinder and ruining your spliffs.
Luckily, those same no-good stems can be transformed into the most universally-beloved and cozy beverage: tea. And is there anything better than a cup of tea? 
Doesn't matter if it's hot or cold, winter or summer, the process of pouring water over leaves to make a cozy beverage is nigh universal. So, stop throwing out those stems and start brewing 'em instead! Here's how.
For those of us who like to see every last bit of everything we buy go to good use, there really isn't anything better than cannabis stem tea. The world is full of waste; not only are landfills quickly being piled full with trash, but billions of dollars a year are wasted on products that were bought and not consumed or used.
Of course, if you are a cannabis lover, you probably treat your frosty nuggets as if they are solid chunks of gold, savoring each hit you take, but it often feels like those byproduct stems that are left over after you have smoked all the bud simply do not serve a purpose. Simultaneously, it can feel unfortunate throwing them away.
What is Cannabis Stem Tea?
Cannabis stem tea is much like its name implies. This dank concoction is actually a hot brew made from the byproduct stems left over from the marijuana plant once the buds have been removed (and probably consumed). It is relatively simple to produce, and sizeable batches can be steeped if you choose to share with your friends or throw a 420-friendly tea party.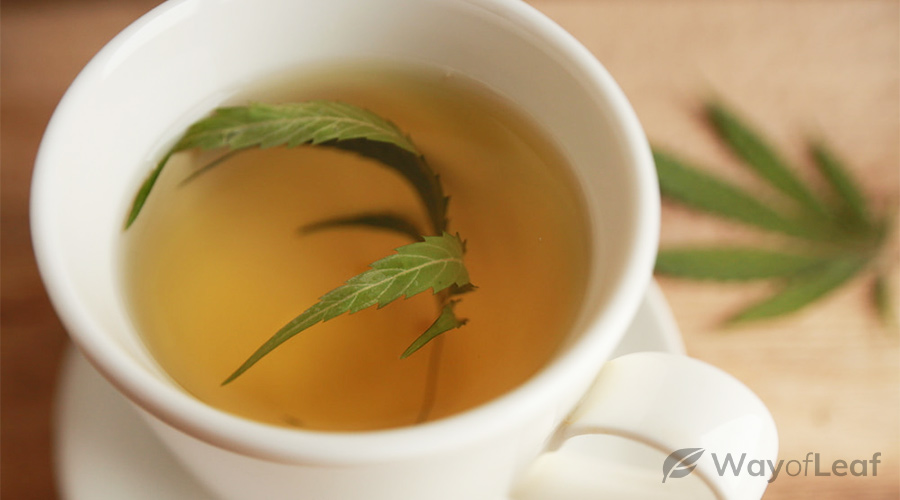 Unfortunately, it is not as simple as just crushing up the stems and throwing them in some hot water; certain factors have to be taken into consideration when soaking this part of the marijuana plant, which is where our handy step by step guide comes into play.
Why Cannabis Stem Tea?
Cannabis stem tea has been sparking up globally, consumed as a more mellow alternative to smoking marijuana. Sure, this hot drink will not get you quite as high as a THC-packed chunk of herb might, but stems seem to offer some pretty amazing benefits, especially considering the fact that so many usually just toss them out. Plus, who could resist the idea of a medicinal tea-party with your friends!
In this article we will explain to you in greater detail not only about the possible medical uses of cannabis stem tea, but also we will describe step by step how you can make this relaxing, hot drink right from the comfort of your very own home.
What are the Medical Benefits of Cannabis Stem Tea?
Although cannabis stem tea on its own has not been researched thoroughly, it is said to possess similar medical benefits to that of other parts of the cannabis plant. Consumers have reported that this concoction has assisted their anxiety, depression, asthma, chronic pain, body aches, migraines/headaches, asthma, nausea, autoimmune disorders, multiple sclerosis (MS), rheumatoid arthritis, and more. Most of all, drinking your cannabinoids is a way for the body to achieve faster acting relief, taking effect quicker than an edible would. Keep reading to discover how to make cannabis stem tea with our step by step guide…
Ingredients for Weed Stem Tea
Weed stems (at least ¼ cup of them, but feel free to double or triple the amount)
2 cups of water for one serving, double with each person you'll be serving
Coffee filter, cheesecloth, paper towel, or another similar filter
Alcohol, butter, milk, or coconut oil for binding (just pick one for flavor's sake)
Saucepan for boiling water
Additional tea bag, sugar, or other flavors (optional)
How to Cook Your Tea
1. Gather Your Stems
You can decide if you want to grind your stems beforehand, but it's not necessary to do and may end up making the straining process more complicated.
So either grind up your stems or gather what you have and move on to the next step.
2. Boil Water
Fill your saucepan with water and bring to a boil. If you're using milk, butter, or oil, add it to the saucepan before bringing to a boil.
If you're using alcohol as a binding agent, do not add it to the water yet. It will boil out.
3. Add Stems to the Boiling Water
Add your stems to the boiling water and give it a good stir. Continue stirring frequently for the next 10-15 minutes.
4. Remove From Heat
Once you've stirred the stems in boiling water for a good 10-15 minutes, you can take the saucepan off the heat and allow it to start cooling.
If you didn't add a source of fat to the boiling water, now is the time to add alcohol. Three tablespoons should do the trick. You can use vodka, rum, or whatever alcohol you have on hand that might make a good pairing.
5. Strain the Contents of the Saucepan
Secure your cheesecloth, paper towel, or coffee filter over a cup or pot to pour the contents into. Slowly pour your mixture over the filter, straining the weed stems out.
6. Enjoy
I'm telling you to enjoy but deep down I know weed stem tea is not very tasty. This is a great time to add in additional tea bags to steep, honey, sugar, or other ingredients to make the tea more appetizing. Otherwise, you can drink it plain and really soak up the earthy flavor.