Plants need to be placed so they aren't crowded, but not so far away that there are big gaps in the canopy. You do want some space in between plant branches when they are pulled up through the scrog—plants will still grow and fill in a little bit because they have at least eight weeks to go through the flowering cycle.
Plants need to be placed so they aren't crowded, but not so far away that there will be big gaps in the canopy.
As a guideline, for a 4' x 8' tray, try putting in 18 or 21 plants in 5-gallon pots. That would give you three rows of either six or seven plants and should give you a sense of how many plants will fit together. You can adjust accordingly, based on tray and pot size.
Once all plants are in place, it can help to fold the branches back a little bit to get them ready for the screen. Be careful during this step! It's easy to snap branches.
Fold branches out and away from the main stem, like a flower opening up or peeling a banana. Also keep in mind that some strains are sturdier than others and can withstand more bending.
Stretching the Screen
You'll need at least four points of contact to put the screen on. Most growers will use a vertical extension that can withstand some force, like a two-by-four or a T-post, at each edge of the canopy.
There are two ways to put on a screen:
Place each corner of the screen on one post at a time, stretching the screen as you go.
Put the screen on all four contact points somewhat loosely and tighten it down later.
After the screen is on, shimmy it down until it's on top of the plants. Ideally, you want the screen about 6-9" above the lowest branching of the plants—this is the first topping you gave the plant and the first point at which the plant starts branching, after the stem comes out of the soil.
Once the screen is set in place, make sure it's tight, especially the edges. The tighter it is, the more it will be able to hold shape and hold the weight of developing buds. Zip ties come in handy here.
You can grab a part of the screen and pull it back and zip tie it to a post to tighten it up. Each point should be tighten about the same amount, so that the screen doesn't come out lopsided. Be careful not to pull the screen too tight, as it might snap.
Placing Branches
At the end of the day, the branches in the screen should interlock with the branches of all the other plants around it. Think of spreading out your hands and putting the fingers of one hand in between the fingers of your other hand.
An important question to ask before putting branches into the scrog is: Where does the branch want to go? If a branch doesn't want to stay where you put it, you might need to place it somewhere else. Don't force it.
Try to fill each square mesh of the screen with a single branch—avoid putting two branches in one square and try not to leave a square empty. This will ensure that each branch gets enough space and light and that the screen is utilized to its maximum potential. You may not be able to do these depending on how much plant material you have, but they are good guidelines to follow.
An important question to ask before putting branches into the scrog is: Where does the branch want to go?
Stretch a branch out as far as it can go, pull it up through the screen, and rest it on the screen. If it falls through, pull it back one mesh closer to the main stem of the plant.
A good place to start on the scrog is a corner, at one of the posts. Work your way down one of the edges to the next post, and then do another edge until all edges are filled in, then work on the middle.
Work methodically, putting the branches of one plant into the screen before moving on to the next plant.
If you're having trouble with a certain branch, one trick is to rotate the entire plant—by grabbing the pot and turning it—so that the branch in question is now facing where you want it to go.
After you're done, it's a good idea to look below the screen to make sure you didn't miss any branches. If so, just pop them back in the screen.
WHAT IS THE SCROG TECHNIQUE?
Left to their own devices, cannabis plants grow taller than they do wide. The ScrOG technique aims to bring the lower branches up and the upper branches down, stretching them across an evenly distributed plane. By placing a screen above the growing medium, cultivators can weave branches through the mesh as plants grow and mature. By redirecting individual branches and running them lengthwise across the screen, growers achieve a flat horizontal canopy.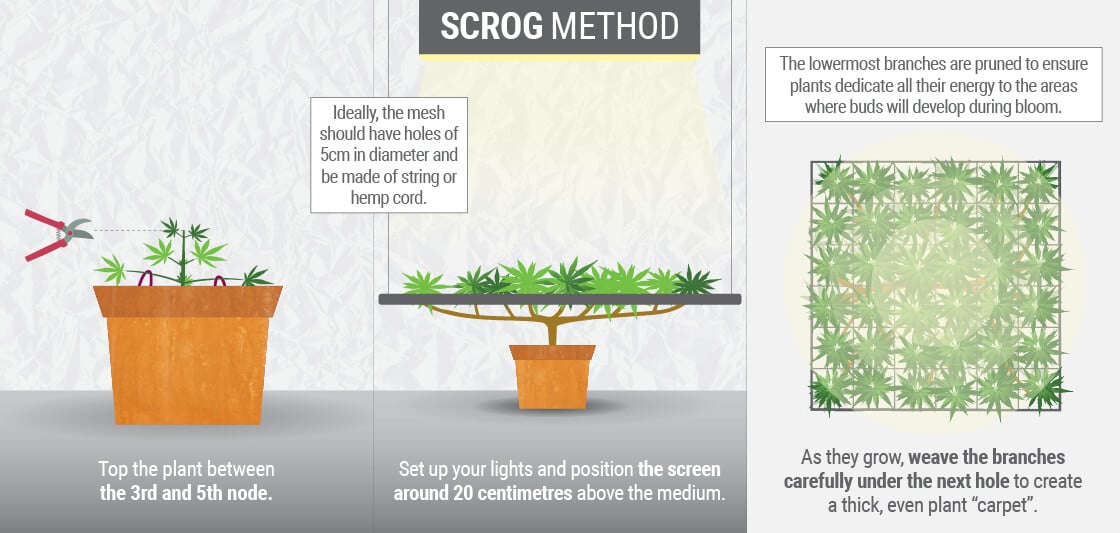 ADVANTAGES OF GROWING CANNABIS IN A SCROG
But why ScrOG in the first place? Well, the technique offers plenty of advantages, including:
Light exposure: A ScrOG canopy receives even light exposure. Untrained cannabis plants feature one main cola that rises above the rest of the plant, meaning the light rig must remain above this point. In contrast, the lighting rig can hang directly above every flower in a ScrOG setup.
Yield: Because each bud site receives adequate light, they maximise their photosynthetic potential, leading to an increase in size and resin production. This level of training also transforms the main stem and central cola into a multitude of both.
Aeration: The horizontal screen of green receives adequate airflow above and below the canopy. The addition of a fan will further enhance this benefit, reducing the risk of fungal pathogens.
Maximise space: Many growers manage to obtain a larger yield from a single scrogged plant in a small space than with numerous smaller, untrained plants. Covert home-growers can maximise their output with this method. Cultivators can even train several plants and merge them into a single ScrOG.
WHEN TO SCROG
You'll start to guide your plants through the screen as soon as they start making contact with it. We recommended positioning the screen around 20cm above the base of your plants, so their rate of growth will determine when exactly you start to ScrOG.
Start the "tucking" process as the apex of each plant begins to grow through the screen. Wait for each tip to grow 5cm above the screen. Proceed to tuck each individual shoot under the screen and direct them through the next square away. Tucking will lay the foundation of the ScrOG process, so be mindful of the direction you want each branch to grow towards.
Continue this process throughout the vegetative phase. Switch to a 12/12 light cycle to induce flowering when the screen becomes mostly filled.
Continue to tuck and weave each branch over the next 2–3 weeks as your plants begin to stretch. This increase in growth will allow you to fill out the screen before your plants enter the true flowering stage and slow their growth.
WHEN NOT TO SCROG
Avoid tucking and weaving your plants too early. It might be tempting to rush ahead, but they'll only grow well beyond the screen. Training your plants into the mesh too early—during the early vegetative phase—will lead to extra work. You might even run out of room on your grid.
HOW TO SCROG: MAJOR CONSIDERATIONS
Although ScrOG setups can look complex, the technique requires little work. Even if you have limited experience growing cannabis, you can jump right into the technique and produce good results. Just make sure to follow the guidance below, and you'll be in for a happy harvest.
SELECT THE RIGHT STRAINS
With or without training, growers should always tailor strains to their preferences, spatial limitations, and climate. Some genetics are far more compatible with the ScrOG technique than others. Check out the best characteristics for the job below.
Stretchy sativas: Sativa-dominant cultivars are lanky, tall, and stretchy in nature. Growers can easily weave their branches and fill out a ScrOG. Of course, you can select smaller and bushier indicas too—just utilise more plants to maximise the potential of your space.
Strain matching: Growers can cultivate several different strains in the same ScrOG setup for a nice variety of flowers. Try to choose strains that reach a similar average height to minimise the work you have to do.

CHOOSE THE RIGHT POTS
You'll need to select the correct pot size to optimise your grow. This variable will shift depending on how many plants you want to incorporate into your ScrOG. Consider the following factors:
Multiple plants: If you want to grow several plants in a smaller space, you need to consider spacing (more on that below). For this reason, each plant will require a smaller pot. An 11l pot will make the most of the space while optimising plant growth.
Single plants: You can increase the pot size when using a single plant in your ScrOG setup. A 25l pot will give your plant enough room to establish a substantial root system and large canopy.
Fabric pots: The ScrOG technique greatly improves aeration of the canopy—using a fabric pot greatly increases aeration of the growing medium. The RQS Fabric Pot features a proprietary Aqua Breathe layer, resulting in increased oxygen levels and enhanced moisture retention.