With more than 1,000 strains of cannabis having been bred during the past several decades, it is critical that patients are aware of the different types of efficacy available to them in terms of cannabis medicine. Some varieties of cannabis are most appropriate for particular diseases and ailments, but not others. Choosing the right strain is critical to ensuring that patients receive the best therapy possible.
Cannabis is a species of flowering herb that is split into three subspecies: Indica, sativa, and ruderalis. Ruderalis plants are small and yield relatively little medicine; what they do provide lacks potency and is generally not appealing to patients. Because of this, ruderalis strains are typically avoided by breeders and cultivators; the focus of the medical cannabis community is on indica and sativa strains.
Indica and sativa plants differ not only in their physiological effects, but also in their appearance. Indica plants are short and stocky, featuring leaves that are broad and "chunky." Sativa plants tend to be taller and skinnier and may even be lanky in appearance, with leaves that are thin and pointed.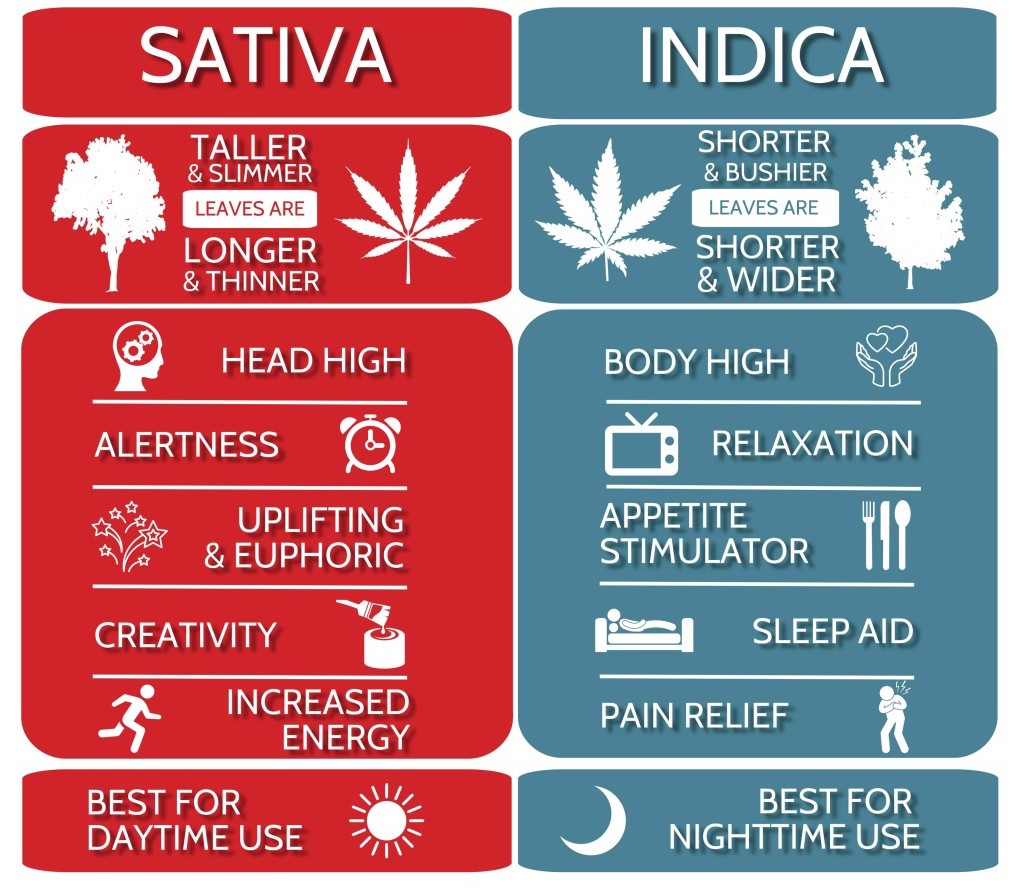 Medical Efficacy
The most important difference between these two subspecies of cannabis, however, is in their medical effects and how they influence energy levels and productivity. Indicas tend to decrease energy and are better for consumption in the evening or at night, after the conclusion of the day's work and activities. Potent indica strains may give some patients what is called "couchlock," a condition in which they become so relaxed that they care barely get up from the sofa.
Sativas, on the other hand, are uplifting and cerebral, enhancing creativity and productivity. Indicas provide what has been called a "body high," while sativas deliver more of a "mind high." Unfortunately, sativa plants require longer to grow and yield less medicine (flowers) than indica varieties. This is why indica strains have traditionally dominated those available on the black market, where there is no concern for patient need and the sole focus is profit.
The fact that patients are given no choice of subspecies or strain when purchasing from the black market is a major reason it should be avoided. Patients should never trust or consume cannabis medicine without knowing its exact strain and that it was properly grown, dried, cured, and laboratory tested for purity and potential contamination.
Modern cultivators of medical cannabis purposefully breed and grow a wide spectrum of strains within both the indica and sativa categories for the purpose of making available the right medicine for a particular patient's unique combination of disease, preference, and lifestyle. Often, patients must maintain jobs or family responsibilities that demand a particular energy level and can't tolerate the sedative properties of many indicas. Other times, patients must seek the most potent non-opiate painkiller possible. Given the choice of chronic pain or the mellowing effects of a strong indica of a particular strain known for its medical benefits, most patients will choose the latter.
Understanding Hybrids
Hybrids are simply new and unique strains that are bred from parents of different types. A hybrid theoretically possesses many or most of the beneficial medical properties of both its parents. Breeders can "cross" any two strains they desire in an effort to create a new strain that delivers the best possible medical efficacy, sometimes for particular diseases like lupus, multiple sclerosis, Crohn's disease, and epilepsy.
It should be noted that any two strains can be mixed to create a hybrid. While indica/sativa mixes are common and often noted for their "alert mellowness" and productivity, medical cannabis breeders can also mix indicas with other indicas or use two sativas as parents.
With so many hybrid strains available to patients, many are a compromise that possess the ability to kill pain and fight inflammation while not putting a patient to sleep in the middle of the day. Patients who must medicate in the morning or mid-day, typically for nausea and pain, often prefer a sativa-dominant hybrid, but will switch to an indica-dom strain in the evenings and for maximum pain relief.
Hybrid strains that display more indica than sativa traits are labeled "indica-dom," while those that lean toward sativa are similarly dubbed "sativa-dom." Often, strains are labeled with a sativa/indica ratio, like a 60/40 sativa/indica. Other times a strain will indicate only a percentage, such as "70 percent indica" or "80 percent sativa".
Here's how people typically generalize the potential effects of each:
Indica
Relaxing
"In-da-couch"
Sleep aid
Recommended for nighttime use
Sativa
Uplifting
"Heady"
Energizing
Recommended for daytime use
Hybrids
Hybrid cannabis strains are a mix of indica and sativa genetics that offer a balanced experience. Hybrids can be categorized even further as indica-leaning or sativa-leaning, as some blends have stronger characteristics one way or the other.
Indica and Sativa. What do they mean?
The words come from the latin names given to the subspecies of the cannabis plant, Cannabis Indica and Cannabis Sativa. Let's break down a few of the main differences between the two.
Cannabis Indica
Varieties of cannabis originating in mountainous regions
Short, bushy stature
Large, thick leaves
Shorter flowering cycle
Cannabis Sativa
Varieties of cannabis originating in tropical regions
Tall, skinny stature
Long, thin leaves
Longer flowering cycle
What can these two different varieties of cannabis tell us about the effects we can expect?
An early understanding of effects.
Since the dawn of modern medicine, cannabis culture has lacked credible research because its illegality prevented people from studying it. As a result, the industry's pioneers were forced to be scrappier and work with whatever anecdotal information was available.
The most common early conclusions were that sativas provided a "heady buzz" with uplifting cerebral energy that many compare to drinking a cup of coffee and recommend for daytime use. On the other end of the spectrum, indicas generally provided a deep relaxing "body high" that is helpful for managing pain and as a sleep aid.

There's still a lot left to learn.
As more research on cannabis has come out, we're learning that how you feel is actually a result of a much more complex combination of naturally occurring compounds called cannabinoids and terpenes within a given strain.
As more research becomes available, look for more in-depth articles here on this site. Or checkout some of the external resources listed here.
Science will surely uncover new levels of understanding the complex world of cannabis. For those who are new to cannabis, the indica-sativa binary provides a basic, simplified way to make sense of things without getting too overwhelmed.
Still have questions about indica and sativa? Come in to Sunnyside* and chat with a Wellness Advisor. We're happy to help you find the right cannabis products to fit your lifestyle.