Sizzurp, the notorious cocktail celebrated by Justin Bieber and Lil Wayne, just gained a new ingredient: marijuana.
Actabliss a Southern California company is now selling a new, marijuana-infused, codeine-free version of the purple "drank" in Los Angeles, LA Weekly reports.
Traditional sizzurp usually contains prescription-strength cough syrup (containing codeine and promethazine) along with Sprite and Jolly Ranchers, all typically served in a styrofoam cup. So no, this new product is not exactly that, but it is purple and gooey and it does contain THC and cannabinoids.
An Actabliss spokesperson told LA Weekly that customers said it "lasts 10 hours and gets them heavily medicated with that syrup feeling. It's sedated and relaxing. It's not just some lean knock off."
Simple syrup is just that, simple. Usually composed of one part white sugar and one part water, this liquid sweetener just needs heat and time to do its thing. Since sugar water is inherently neutral, adding and steeping herbs, like mint or rosemary, can impart subtle or strong natural flavors depending on the cooking and steeping time. That said, you can also make a classic simple syrup using one cup water, one cup sugar, and Rick Simpson Oil (RSO)—simply follow the same directions below.
How did it become so popular?
People have been misusing codeine, a main ingredient in lean, for ages, but lean's prominence in pop culture has made it more popular than ever.
Rappers (and Justin Bieber) have been singing its praises in songs — and dying or having seizures from it — since the late '90s (though it seems to have first appeared in the '70s or '80s).
Here's a highlight reel of lean's more specific claims to fame in pop culture:
Reports suggest it's a major factor in Lil Wayne's ongoing hospitalizations for seizures.
Bow Wow recently opened up about almost dying as a result of his addiction to lean.
The late Mac Miller also described dealing with an addiction to lean in 2013.
Rapper 2 Chainz was arrested at an airport for possessing promethazine, a key lean ingredient.
Then there are the high-profile athletes whose lean-related suspensions and hospitalizations continue to make the headlines.
What's in it, exactly?
The most commonly used ingredients are prescription cough syrup that contains the opioid codeine and the antihistamine promethazine.
The cough syrup is mixed with soda and sometimes alcohol. Some people also add hard candies, especially Jolly Ranchers, to the mix.
Others use over-the-counter (OTC) cough syrup containing dextromethorphan (DXM) instead. Since OTC cough syrups no longer contain alcohol, people usually add their own alcohol to the OTC version of lean.
Other variations of purple drank involve a combination of codeine tablets added to cough syrup and soda.
The amount of each ingredient varies. But to get the desired effects, a lot more than the recommended or safe dose is used.
Is it legal?
Yes and no.
The Drug Enforcement Administration classifies codeine as a Schedule II controlled substance when it's a single ingredient. It remains a lesser, but still potent, controlled substance when mixed with other ingredients.
All products containing it are only available with a prescription due to the risk of misuse. The distribution or manufacturing of it without a license is illegal.
Cough syrups containing codeine fall into the risk of misuse category since Actavis — considered to be the best of codeine cough syrups by lean users — was taken off the market due to its popularized misuse.
DXM cough syrup is available without a prescription, but some states restrict the sale of it to people over the age of 18.
What does it do?
Lean creates a feeling of euphoria and relaxation that makes you feel dreamy, almost like you're floating away from your body. It acts on your central nervous system (CNS) and slows your brain activity for a sedating effect.
While some people may enjoy the euphoric effect of lean, it can also produce other less than desirable, and even downright dangerous, effects in high doses, including:
hallucinations
extreme sedation
loss of coordination
high body temperature
nausea and vomiting
itchy skin
severe constipation
changes in heart rhythms
respiratory depression
dizziness
seizures
loss of consciousness
What happens if you add alcohol?
Combining alcohol enhances the effects of the codeine and DXM. While it may seem like a good way to get higher, it's not a great idea.
Short-term effects of adding alcohol to lean include:
trouble breathing
drowsiness or sleepiness
delayed motor skills or reaction time
poor judgment
brain fog
Materials
Medium pot or saucepan
Measuring cup
Spatula (for stirring and pouring honey mixture)
Funnel
Spoon (for peeling ginger)
Strainer
Timer
Vessel for syrup, such as a Mason jar
Ingredients
1 cup water
1 cup honey (preferably local, for its health benefits)
1g (1000mg) CBD Rick Simpson Oil (RSO), or less for reduced potency
2-inch piece of ginger (or as small as 1 inch for a milder flavor)
Directions
Peel ginger with spoon. Cut into medium-sized pieces.
Combine honey and water in pot or saucepan.
Add ginger and bring to a simmer. Stir periodically while simmering for 35 to 40 minutes.
Add desired dosage of activated CBD full-plant extract oil (RSO) to your empty simple syrup vessel. Strain slightly cooled syrup into the vessel, then stir well to incorporate the RSO. Use caution and care! Hot simple syrup is much hotter, meaner, and stickier than hot water. Leave cap open or ajar until mostly cooled.
Cap, shake well before using, and enjoy!
Pro Tips
Be sure to shake your syrup well before each use to ensure best (i.e., most consistent) results.
You can store and enjoy your infused simple syrup for about three weeks.
Considering adding 1–3 tablespoons this infused syrup to your coffee for a boost, or sipping it with lime juice and seltzer water for a refreshing twist.
Liver damage
Acetaminophen, a common ingredient in cough and cold medications, has been linked to liver damage when you take more than the recommended dose or drink alcohol while taking it.
Remember, lean involves using way more than the recommended dose of cough syrup.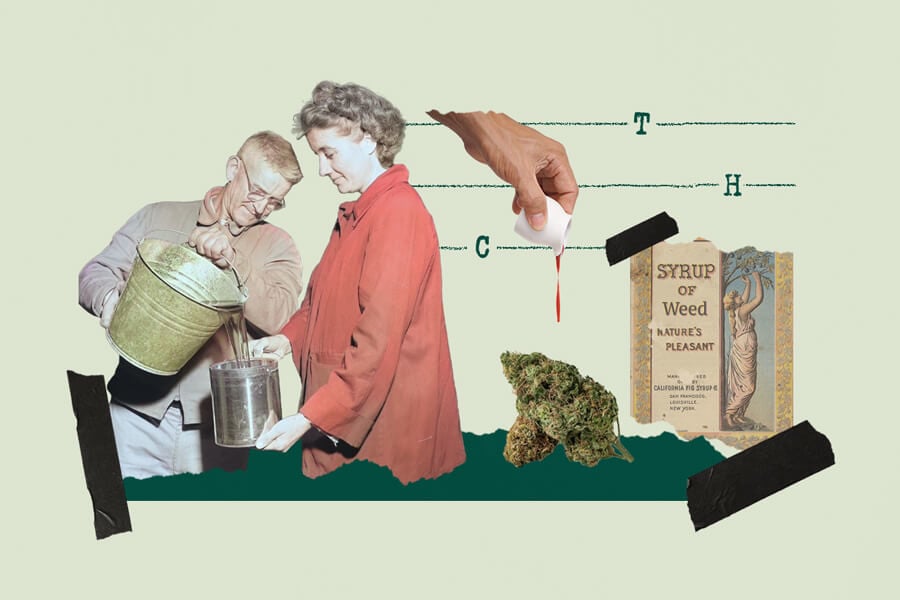 High amounts of acetaminophen and other drugs can prevent your liver from properly metabolizing chemicals, leading to excessive amounts in your liver. According to the Food and Drug Administration (FDA)Trusted Source, prescription and OTC drugs are the leading cause of acute liver failure.
Signs of liver damage include:
yellowing of your skin or the whites of your eyes
right-sided upper abdominal pain
nausea or vomiting
dark urine
dark, tarry stools
fatigue
On their own, codeine and alcohol can also cause liver damage when you ingest more than the recommended dosage.