Shatter is a cannabis extract that is solid and translucent in appearance, as if you could shatter it like glass. It achieves its glass-like appearance through specific processing techniques involving solvents like butane or other hydrocarbons. Concentrating essential compounds like THC and CBD, shatter offers the benefits of cannabis in a highly concentrated, compact form that is popularly dabbed or vaporized.
"That Tangie shatter I dabbed tastes like pure oranges."
"I like shatter, but wax is easier to scoop out of the container."
What is shatter?
Shatter is a cannabis concentrate that is named for its hard, glass-like consistency that tends to crack, or shatter, when broken apart. It is typically gold or amber in color. Although shatter is popularly believed to be more potent or pure than other types of extracts, this is not always true; its appearance instead has only to do with the extract's molecules being less agitated during production.
Shatter is usually dabbed, a method of consumption that involves flash vaporization off of a specialized water pipe called a dab rig. This glassy extract has a reputation for being potent, though it can range in potency depending on the chemical composition of the source plant and the extraction techniques and equipment used. While the high watermark for cannabis flower tends to sit around 30% THC, shatter extracts may test upward of 80% to 90% THC.
How is shatter made?
Shatter can be made using a variety of production methods, but it is typically created using butane or hydrocarbon solvents. Butane extracts are also called BHO, short for "butane hash oil." To make BHO, cannabis is typically contained in a tube where butane or other hydrocarbons are pushed through the plant material, stripping away desirable compounds like THC and CBD. The concentrated oil is collected and may be further refined using additional techniques. "Purging," for example, refers to the removal of excess residual solvents using a vacuum chamber, and "winterization" refers to the separation of fats and lipids from the oil.
Shatter and other types of BHO are extremely dangerous to make using at-home DIY setups due to the flammability of butane fumes. Attempts to make BHO in home environments have resulted in several accidental explosions. Professional-grade shatter is produced using safe closed-loop systems that prevent these fumes from entering the ambient environment.
Difference between shatter and wax
Shatter refers to cannabis extracts that take on a hard, glassy form while waxes are softer and more malleable. The difference between shatter and wax is primarily a superficial one: it's merely a cosmetic difference caused by a difference in molecular agitation. Shatter maintains its glass-like consistency because the molecules in the extract were left undisturbed during processing, whereas the molecules in wax were agitated.
The level of transparency achieved in the production process does not reflect the potency of the extract. In other words, shatter is not necessarily higher in THC than wax, and vice versa. To determine the potency and chemical composition of any given extract, refer to the lab results of individual products at your local dispensary.
One practical difference between shatter and wax has to do with ease of use. Wax is softer and sometimes easier to handle using dabbing tools like scoops. Because shatter tends to crack apart into unpredictably sized pieces when broken, you may find that it's a little harder to scoop and dose the correct sized dab. 
How to Use Shatter
Like other marijuana extracts, shatter is usually vaporized or "dabbed" by consumers from a vape pen or specially equipped water pipe called a dab rig. With a potency ranging between 50-90 percent cannabinoids by weight, marijuana extracts like shatter are a fast, efficient, smoke-free way to consume cannabis.
To use shatter in a vape pen, you'll want to be sure you have one that is specifically designed to be used with marijuana extracts like wax or shatter. These vapes have an atomizer (the vape's heating element) that will rapidly heat, bringing your shatter to its vaporization point.
To vape shatter, you'll add your shatter to your vape's heating chamber, as you would similar marijuana extracts. As the atomizer heats your shatter, it will quickly melt and turn to vapor, which you will then inhale from the vape's mouthpiece.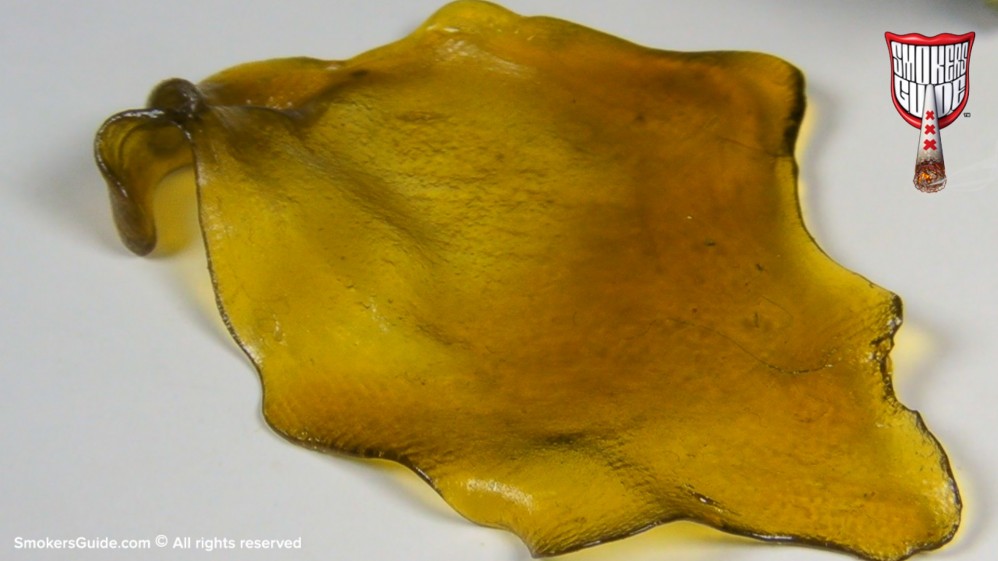 Dabbing is the more traditional way to use marijuana shatter. When dabbing, pieces of shatter are applied or "dabbed" onto a hot surface like a hot titanium or ceramic nail or quartz bucket. The shatter will rapidly vaporize upon contact with the hot surface. As you dab your shatter onto the hot surface, you will inhale the vapor through the dab rig's water chamber and into your lungs.
Visit our what is dabbing guide to learn more about dabbing cannabis shatter, including our How To video.
What Makes Shatter Different?
For most practical purposes, there is little difference between shatter and other forms of marijuana extract. They are consumed in the same ways and largely have the same potency range. Most differences between cannabis extract types then are cosmetic.
Shatter is an amber or gold color and is transparent to some degree. The reason shatter concentrate is semi-clear has to do with the molecules in the extracted cannabis oil. In shatter, these molecules are all stacked nice and neat in straight rows, one on top of the other. This molecular alignment allows light to pass through the marijuana extract and gives the shatter its glass-like properties.
Heat, moisture, and high terpene content can affect the texture and extraction, which may turn extracted oils into a runnier substance that resembles sap but retaining its translucent appearance.
Concentrates other than shatter and sap are whipped, stirred, or shaken at various times during the process, agitating the individual molecules in the mixture and causing their cloudy appearance. Shatter is not agitated which accounts for its translucency.
However, once the molecules in the cannabis oil are disrupted, usually by whipping, stirring, or shaking the oil during processing, they form irregular structures that are more opaque and let less light through. This is why the transparency of shatter vs wax is so different. When the oil is agitated, you get opaque wax or similar cannabis concentrates instead of the clear concentrates found as shatter.
So why is shatter called shatter? Compared to other extracts, shatter is incredibly hard. When it breaks, it will often crack and well… shatter when pressure is applied to it. Especially on a cold day, shatter can crack violently, sending shards of shatter off in every direction. In that sense, shatter is very much like glass. This is even more true when shatter is in a thick slab.
Benefits of Shatter
A main benefit of dabbing shatter is that it offers an incredibly fast method for cannabinoids to enter the bloodstream, offering near instantaneous effects. Due to the increased potency of cannabis extracts, users are also able to take on a "less is more" approach in using their cannabis.
Dabbing shatter means you no longer need to inhale large amounts of burning plant material to get the effects you want. That is a good thing. Rather than smoking entire joints and exposing your lungs to harmful chemicals in the smoke, consumers can dab once or twice to get their cannabinoids, inhaling only vapor – not smoke.
Shatter is also more stable due to its molecular structure, so it will last longer before degrading compared to wax and other similar extracts. However, some users find the hard consistency difficult to break up and measure out into individual uses. Try lightly heating your dabber before using it to break off a dab from your shatter.