Cannabis capsules are marijuana in pill form. They can contain many forms of cannabis, including oil and decarboxylated flower. They can contain single cannabinoids or the full spectrum of compounds the source cannabis plant has to offer. Typically, cannabis capsules are labeled by their cannabinoid contents, such as THC capsules and CBD capsules, for example. Compared to other cannabis products and consumption methods like vaping or smoking cannabis, capsules are easy to dose and consume. Medical marijuana patients sometimes opt for pills because they can provide a potent dose with long-lasting effects.
How capsules interact with your body
Immediate-release capsules work identically to edibles. Cannabinoids enter your body through your mouth and get absorbed by your stomach. In the case of THC pills, your liver then metabolizes THC into a compound called 11-hydroxy-THC, which can last longer and have a more sedating effect than THC.
Time-release capsules follow the same route of digestion and metabolization, but the effects may be delayed or drawn out. Capsule shells engineered with liposomes and drug-polymer conjugates — like hydrogels — allow for the timed release of their contents. These protective and inert ingredients neutralize stomach acid for slower release of THC or CBD into the bloodstream.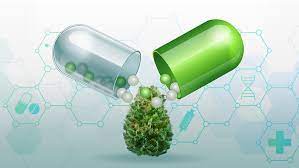 How to take CBD and THC pills
If you've tried cannabis edibles, then you already have a solid understanding of the experience you can expect from THC pills. If you're new to both of these cannabis products, know that every individual's liver metabolizes compounds differently, which is why edibles and THC pills can produce different effects in different people. The effects of THC pills can range from sleep-inducing and pain-relieving to focused and euphoric, depending on the capsule's ingredients. The entire experience can last anywhere from 45 minutes to several hours, depending on the individual and the potency of the THC pills.
Meanwhile, CBD pills may cause only the slightest shift in consciousness or a wave of pain relief, depending on the dose and other ingredients. Finding the right dose and cannabinoid profile for you takes some trial and error, so start with 5 milligrams (mg) of THC or less and wait at least two hours before taking more. If you're trying CBD capsules for the first time, start with 25mg of CBD or less.
Types of CBD and THC pills
There are many types of marijuana capsules to choose from. Here are the common terms you'll find on capsule packaging and what they mean: 
Ground, decarboxylated flower. Decarboxylation is the process of heating cannabis flower to activate certain cannabinoids. Cannabis flower requires decarboxylation to turn non-intoxicating THCA into intoxicating THC or inactive CBDA into active CBD. Ingesting decarboxylated weed in capsule form allows you to experience the entourage effect without having to smoke weed.
Crystalline. Crystalline is a powdered substance that resembles table salt or sugar. Crystalline capsules contain nearly 100% pure powdered cannabinoids, often in THCA or CBDA-only formulas that allow medical patients to ingest weed without the intoxicating effects associated with THC. The extraction process used to create crystalline essentially strips cannabis of terpenes, minor cannabinoids, and plant matter, leaving behind only the desired molecule.
What Is THC And Why Does It Need Heat To Work?
Tetrahydrocannabinol, or THC for short, is the psychoactive ingredient in marijuana that makes you feel euphoric and high. THC exists in raw cannabis plants as the non-psychoactive THCA, which won't get you high until you add heat to decarboxylate it.
You can pop your bud in the oven, set in on fire, or even hold it under a magnifying glass in the hot sun for a while. Just be sure to inhale the smoke on those last two.
If you're going to use your bud in something else (like an edible or a pill), we suggest going the hot-oven route. Pretty much every other method of decarboxylation will destroy your ganja in the process. You don't want that now, do you?
Once your grass is decarboxylated, you're ready to think about making your own THC pills.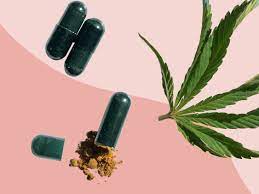 What Are THC Pills?
THC pills are made from extracted natural cannabinoids suspended in a fatty oil. Cram all that canna-goodness in a gelatin capsule, and you've got yourself a THC pill.
Even though THC pills are pretty simple in theory, there's still a lot of confusion in practice. That's because many people also refer to Marinol and Dronabinol (the legal synthetic versions of THC) as THC pills as well.
Because of the controversy surrounding THC pills, choosing the right chill pill can be a bit stressful if you're new to the cannabis game. Never fear! We'll help you understand how popping synthetic THC pills differs from smoking wonderful weed. That way, you'll understand the advantages and potential pitfalls of putting your pot in a pill vs a pipe, vape pen, or dab rig.
In the next few sections, we'll break down the scientific logic behind our preference for homemade organic marijuana THC pills over the synthetic, laboratory-made marinol and dronabinol THC pills.
We'll even wrap things up with a few tips on how to make your own custom THC chill pills at home!
The Truth About Marinol
Dronabinol is the active artificial THC-like ingredient in the prescription brand-name drug Marinol, which is given in pill form to AIDS and cancer patients for pain and nausea when all other alternatives have failed.
Marinol has proven to create a similar high, which has been shown to take effect slower but outlast the pain-relieving effects of a joint of combusted cannabis. But Marinol is not always a perfect alternative. Here's why.
Adverse Side Effects Of Marinol
Feeling high, dizziness, confusion, or sleepiness, according to the Marinol website. The National Library of Medicine (NLM) also lists weakness, stomach pain, nausea, vomiting, memory loss, and hallucinations.
About one-third of Marinol patients reportedly experience adverse Marinol side effects of drowsiness, dizziness, confusion, anxiety, changes in mood, muddled thinking, perceptual difficulties, coordination impairment, irritability, and depression from anywhere between four to six hours, according to the National Organization for the Reform of Marijuana Laws (NORML).
Marinol can give patients a marijuana overdose even more severe than the one that NY Times Columnist Maureen Dowd had when she "overdowded" by eating too much weed edible.
And in case you're wondering what "overdowd" means, it's a slang portmanteau of the words "over" (as in overdose) and "dowd" (the last name of journalist Maureen Dowd).
Some years ago, while writing a piece on the burgeoning marijuana industry in Colorado, Ms. Dowd consumed too much of a cannabis-infused candy bar — despite prior warnings — and went on a really bad trip.