Scrogging, or screen of green, is a form of LST (low stress training) where the main goal is to maximize the footprint of your light. With standard, Christmas tree style plants, you can only lower the light until it's close enough to the top cola. ANY bud from there down is getting less light. With a traditional setup, the lower each bud is on the plant, the less light those buds get. The scrog process is done by dividing, or breaking down the main cola, in conjunction with raising all the lower bud up to the canopy.
We grow the plant horizontally until we are a few weeks into the Flowering stage. This is a key point as many attempts at Scrogging turns out to be merely a skeletal support structure for standard plants, not real Scrogs.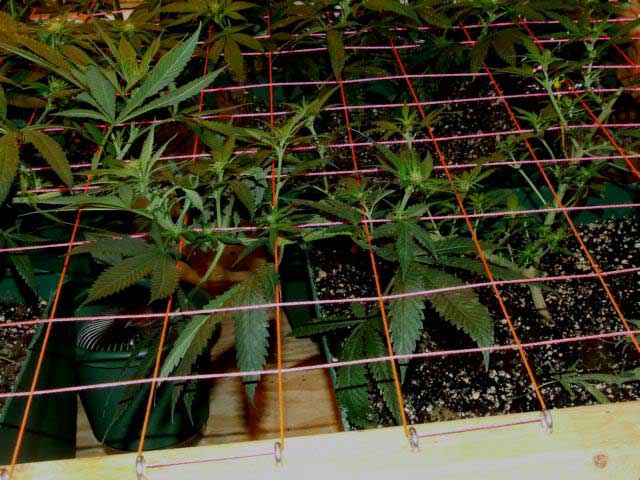 A Scrog is when you bring those arms up and run them lengthwise under the screen. All those would-be popcorn buds become real buds because they become part of the canopy and receive direct light.
Lower buds are brought up to the screen or the screen is lowered, allowing them to become a part of the canopy.
ADVANTAGES OF GROWING CANNABIS IN A SCROG
But why ScrOG in the first place? Well, the technique offers plenty of advantages, including:
Light exposure: A ScrOG canopy receives even light exposure. Untrained cannabis plants feature one main cola that rises above the rest of the plant, meaning the light rig must remain above this point. In contrast, the lighting rig can hang directly above every flower in a ScrOG setup.
Yield: Because each bud site receives adequate light, they maximise their photosynthetic potential, leading to an increase in size and resin production. This level of training also transforms the main stem and central cola into a multitude of both.
Aeration: The horizontal screen of green receives adequate airflow above and below the canopy. The addition of a fan will further enhance this benefit, reducing the risk of fungal pathogens.
Maximise space: Many growers manage to obtain a larger yield from a single scrogged plant in a small space than with numerous smaller, untrained plants. Covert home-growers can maximise their output with this method. Cultivators can even train several plants and merge them into a single ScrOG.
WHEN TO SCROG
You'll start to guide your plants through the screen as soon as they start making contact with it. We recommended positioning the screen around 20cm above the base of your plants, so their rate of growth will determine when exactly you start to ScrOG.
Start the "tucking" process as the apex of each plant begins to grow through the screen. Wait for each tip to grow 5cm above the screen. Proceed to tuck each individual shoot under the screen and direct them through the next square away. Tucking will lay the foundation of the ScrOG process, so be mindful of the direction you want each branch to grow towards.
Continue this process throughout the vegetative phase. Switch to a 12/12 light cycle to induce flowering when the screen becomes mostly filled.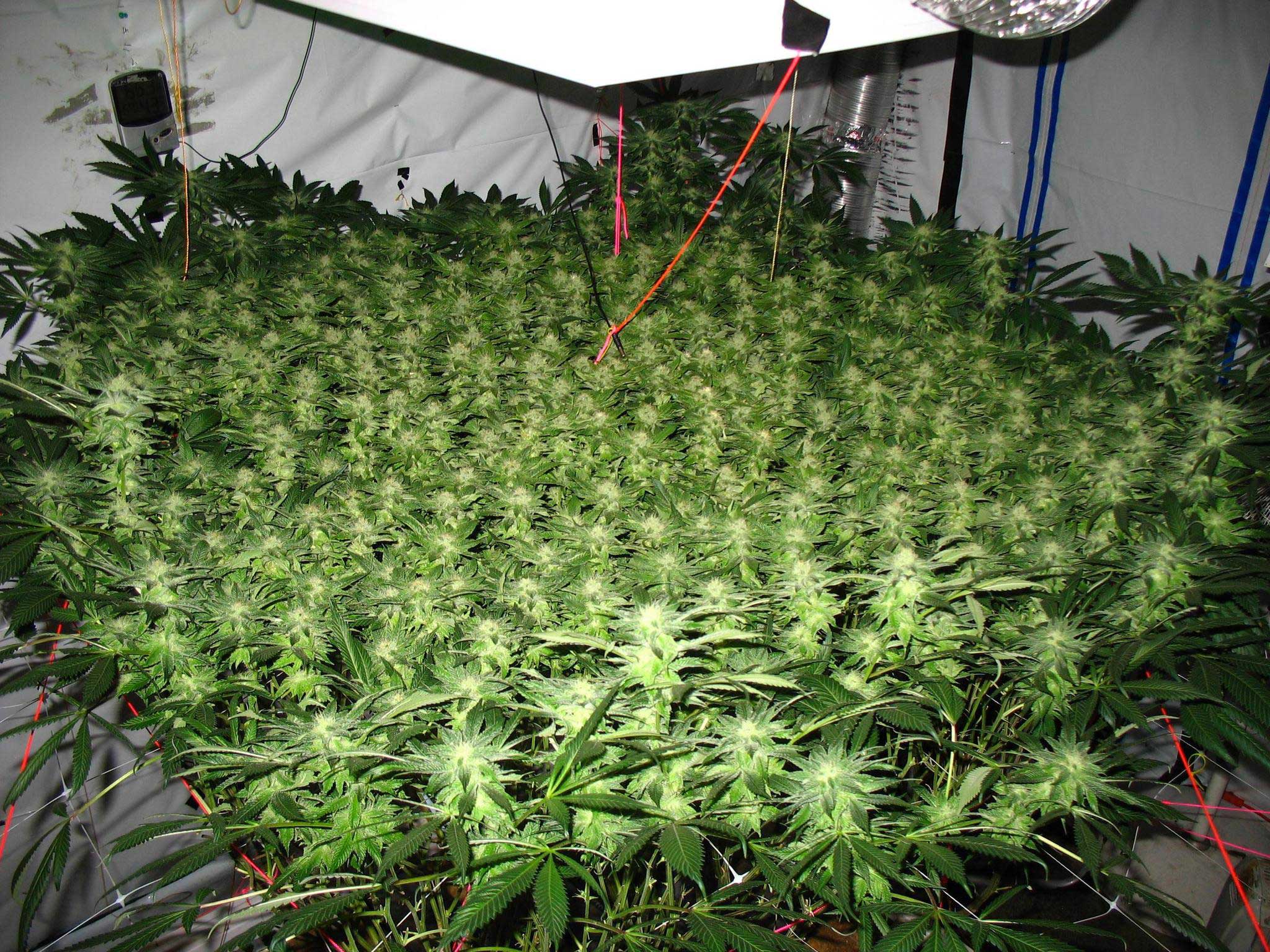 Continue to tuck and weave each branch over the next 2–3 weeks as your plants begin to stretch. This increase in growth will allow you to fill out the screen before your plants enter the true flowering stage and slow their growth.
Screen materials
I have tried pretty much most of the standard things you can use for screen. Below are the 4 main ones used, listed in my order of preference.
1.) STRING – The very best. Laces up quick and easy and you just snip, snip, snip come harvest time. Throw it away and lace up a new one.
2.) Twine/hemp cord – Pretty much the same ease of use as string but you get hairs in the buds from fraying.
3.) Plastic fencing – works well but is kinda sloppy looking.
4.) Chicken wire/fishing line – The 2 worst
Chicken wire is terrible because the buds actually grow into it and you have to "cut" your harvest out. Snipping up chicken wire into a bunch of smaller pieces sucks, you get poked a lot and is an overall nightmare compared to string. Does it work as a screen? Quite well, but chicken wire sucks to remove.
The fishing line is also bad news as it can cut a stem, arm etc, very quickly and easily. Consider it to be "sharp". I have only used 12 lb to test, I imagine something in the 30+ range might work pretty good though. Avoid any "braided" fishing lines especially.
This is my version of a screen that is both easy to work and re-usable forever. I simply lined a square of 2×4's with eye hooks
How to Make Frame
Making the frame is simple, simply get some lumber and measure it out. Make a square frame with 2×1 or 2×3 and then add eye hooks, every 2.5″ inches
I tie the cable ties loose around the screen. You want to anchor it but not restrict its growth in any way
Mounting
Many build feet for their screens. This somewhat limits you. I like having screens where the height can be adjusted either by a peg system or some other ingenious way. I use shower curtain rods for mine and they work well, but you have to get used to not leaning on the screen or disaster can be right around the corner. To me, it's worth it not to have legs in the way. It allows more room for "under canopy" cleaning and maintenance.
How secure are these shower rods?
You have to get used to not putting pressure on them but they were handy because of all the extra room for cleaning by not having the 4 legs on the screen. I don't have any problem with the plants lifting up the screen. I have a set height now, 4″ above the bucket lid, so I just built in stops to rest it on, works great. The shower rods were great too though…cheap, effective and adjustable. Like I said though, the key is to get that screen real low and I think at 4″, I've maxed that.