People often worry how breathing someone else's marijuana smoke could affect them. Let's look at some common questions about this, and the answers that science has found.
Can you get a "contact high" from secondhand marijuana smoke? It depends.
You'd have to be in an unventilated room, and very close to someone who is smoking for a long period of time. ("Unventilated" means all windows and doors are closed.)
In one study, 12 participants sat together for an hour in an unventilated room. Six participants smoked marijuana casually during that hour and the other six didn't smoke anything. 
At the end of the hour, each nonsmoker's heart rate was a little faster than it was before the experiment. The nonsmokers also reported feeling slightly buzzed or sleepy, and they didn't perform as well on logic tests as they had before the experiment.
But when the same experiment was conducted in a ventilated room, there was no change in the nonsmokers' heart rate or test performance, and they did not report any signs of a "contact high."
Can you test positive on a drug test after inhaling secondhand marijuana smoke? Probably not in most cases.
But it is possible to detect marijuana in drug tests after exposure in an unventilated room to larger amounts of THC, the ingredient in marijuana that causes the high.
Drug screens can look for THC in your blood, urine, saliva, or hair. In one study, nonsmokers spent 3 hours in a well-ventilated space with people who casually smoked marijuana. Then, researchers measured the amount of THC in the nonsmokers' urine. 
Sensitive laboratory tests were able to find THC in the nonsmokers' urine, but not enough to trigger a positive result on most commonly used drug tests.
Next, the researchers conducted the same experiment for 1 hour in an unventilated room with marijuana that had higher levels of THC (11.3 percent, compared with 5.3 percent in the previous experiment). This time, some nonsmoking participants did test positive for THC in their urine—but that was rare, and it only happened in the hours right after the experiment.
What are the health effects of inhaling secondhand marijuana smoke? Researchers are working to figure this out.
We don't know yet how a person is affected if they live with somebody who smokes marijuana regularly, or how higher concentrations of THC in today's marijuana could affect secondhand smoke.
A study using rodents found that secondhand marijuana smoke can do as much damage to the heart and blood vessels as secondhand tobacco smoke. But researchers haven't fully explored the effect of secondhand marijuana smoke on humans. 
We also know marijuana smoke contains levels of chemicals and tar that are similar to tobacco smoke, raising concerns about risk for cancer and lung disease. We don't know yet how it affects a person's health in the long run. 
Research is also being done on possible risks of secondhand vaping; this will be important to know, because a growing number of teens report vaping THC.
As researchers learn more, we'll keep you updated.
What factors affect how long it stays in your system?
A number of factors affect how long weed stays in your system. Some of these factors, such as your age, gender, and body mass index (BMI), aren't related to the drug itself, but to how your body processes and metabolizes the drug.
Other factors are related to weed and how you use it. This includes how much you take (dose) and how often (frequency). Higher doses and more frequent use tend to increase the amount of time it takes to eliminate weed from your system.
More potent weed, which is higher in THC, may also stay in your system for longer. Weed that's ingested may also remain in your system slightly longer than weed that's smoked.
Is there anything you can do to metabolize it faster?
There isn't much you can do to speed up the amount of time it takes for weed to leave your system.
Once it's entered your system, your body needs time to break it down. Exercising, eating healthy, and staying hydrated may help, but not drastically.
There are a number of weed detox remedies and kits available on the internet. Many require drinking a lot of water to dilute your urine, and then using herbal supplements such as creatinine or vitamin B-12 to mask the dilution.
These kits don't work reliably.
How long does it take to feel the effects?
Weed's effects appear quickly, usually within 15 to 30 minutes after smoking. It can take one or two hours to feel weed's effects when it's ingested.
Weed's active ingredients produce a short-term "high." Common effects include:
sense of well-being
sense of relaxation
feeling that time is slowing down
giggling or chattiness
altered sensory perception
Other short-term effects include:
inability to focus
increased appetite
coordination problems
sleepiness
restlessness
rapid heart rate
dry mouth and eyes
confusion
feeling sick or faint
anxiety or paranoia
In rare cases, high doses of weed can cause hallucinations, delusions, and psychosis.
Smoking or ingesting weed on a regular basis can have additional effects on your mind and body. You might be at an increased risk of developing:
cognitive impairments
memory impairments
learning impairments
cardiovascular diseases, such as heart disease and stroke
respiratory illnesses, such as bronchitis and lung infections
mood disorders, such as depression and anxiety
hallucinations and psychosis
If you use weed while you're pregnant or breastfeeding, there's a greater chance that your baby will have birth defects or problems with brain development.
How long does it take for the effects to wear off?
Weed's short-term effects start to taper off after one to three hours. Some effects, like memory problems or trouble sleeping, can last a few days.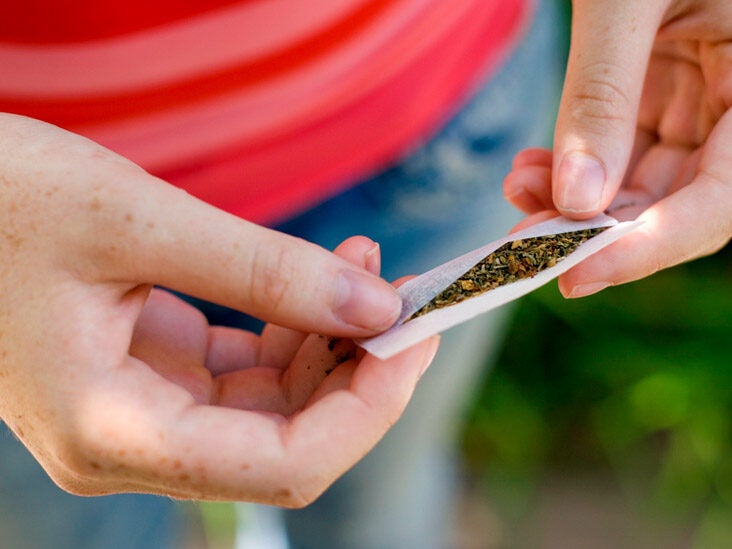 Researchers don't know how long the effects of chronic use last. Long-term effects can last days, weeks, or months after weed use has ended. Some effects may be permanent.
The bottom line
Weed may stay in your system anywhere from several days to several months after last use. Detection windows depend on the drug test used and other factors, such as whether you smoke or ingest weed on a regular basis.