It's that golden powder that falls to the bottom of your grinder after you shred a dank nugget. The stuff that every stoner covets and probably has a jar of somewhere in their collection of pot products. It's kief and it's awesome. It's the crystals off of the cannabis buds and it gets you seriously baked! Whether you're putting it in food or smoking it or turning it in to hash, kief is an all time favorite. Recently, there has been a small explosion of popularity with kief pucks. These are large amounts of kief compressed in to little hockey pucks. Made by putting pressure on the cannabis crystals by adding the golden powder to a pollen press, getting stoned off of these is a great way to get high and stay that way all day. It's best to keep them under pressure for as long as two days. The longer the puck stays in the pollen press, the better it will stick together when it is removed. It seems that the most common and efficient way to smoke these pucks is to either break them up and place them on top of packed bowls or just place the whole thing on top of the bowl. There are quite a few different ways that are recommended however. These methods include hot knifing, adding the puck in to a joint, vaporizing, and just smoking the puck how it is by placing it in a piece. Putting the pucks on top of green seems to be the best way, however. Be careful when smoking kief, as it is extremely strong.
This product of cannabis is excellent for those in a lot of pain, as the effects of kief are incredibly stronger than just bud. Collecting kief for some people can be a long process and kind of a pain, especially if you constantly run of out weed and smoke all of your bud. Smoking kief is sure to help keep you stoned until you can get your hands on some weed. Even if you're not out of flowers, a kief puck will put you to sleep or keep you on cloud nine for hours. It may take a while to get a lot of kief together to make a puck big enough to enjoy, it's a process that's worth the wait.
How to use your kief
The most obvious way to use your kief is the most popular for a reason: it's quick and easy. When smoking kief out of your bowl, you don't want to load a pure bowl of kief. While smoking a bowl of pure kief sounds fun, it burns too quickly and can be too intense for some. Instead, you should use kief to spice up your bowl of flower.
If you enjoy a nice joint or blunt over cannabis from a glass piece, you'll be happy to know that you can sprinkle some kief in your joint to make it that much more potent.
If you love edibles but aren't as huge of a fan of how much the flavor of the cannabis influences the flavor or your food, then you'll love this. Cooking with kief gives your edibles a much more toned down flavor. But make sure you account for the potency. Typically, your kief is going to be around 50-80% THC depending on the quality.
Do you need a cup of piping hot coffee before you can get your day started? Why not throw a little bit of kief in it! Thanks to the coffee's heat, the THC in the kief will activate allowing you to fully enjoying cannabinoids while sipping your Mocha Latte. You don't need much kief in your coffee to experience a good high that will last long into the afternoon.
Want to trade a simple concentrate for a more complex one that is a little bit more versatile? Then transform your kief into hash. Hash is nothing more then trichomes that have been compacted into a denser material for easier use. To make hash out of kief, the easiest way would be to pick up a kief press. Using a press, you get a kief "puck" with the same texture of hash, but it's not quite hash yet. To complete the transformation, wrap the puck in parchment paper, then in a wet paper towel, and finally foil. Next, bake it in your oven at around 250F for 5-8 minutes.
Prefer a different concentrate over hash? If you want an extract that you can hit off a dab nail or from a pen, consider pressing your kief into rosin. With a just a hair straightener, unbleached coffee filter and a piece of wax paper, you can have rosin in minutes. First, press your kief into a puck. Then you need to wrap the puck in the filter, followed then by the parchment paper. You are going to want to run the hair straightener at a lower temperature for kief compared to flower–right around 200-250 F. Firmly press the wrapped up kief in the hot iron and in 30-45 seconds you'll have a fresh batch of oozing rosin! Just make sure to cool it off before smoking it. This can be done by placing it in the fridge for a bit, or if it's cool where you live, then just placing it on the counter will suffice.
While it might be tempting to always load your kief into a bowl, there are tons of great ways to experience kief. This is by no means a complete list of how you can utilize your kief. So, get creative, get outside your comfort zone, and experience kief in an all-new way today
But is it possible to get CBD kief?
One of the primary reasons that mother nature puts these resins to work is to deter herbivores. The trichomes on the plant protect it by sending the creature on a hardcore psychoactive trip. The animal essentially gets stoned and confused after consuming the crystals, which is supposed to prevent it from moving on to consume the rest of the flower. Of course, this isn't always a fail-safe shield. But that's how the system is designed to operate.
Kief is extracted by sifting the crystals through a screen. And since the majority of the plants are THC dominant, it makes sense that kief from these buds is going to be higher in THC than any other compound. But hemp is now a vital part of the medical marijuana market. These plants come with higher levels of CBD and only the smallest traces of the psychoactive.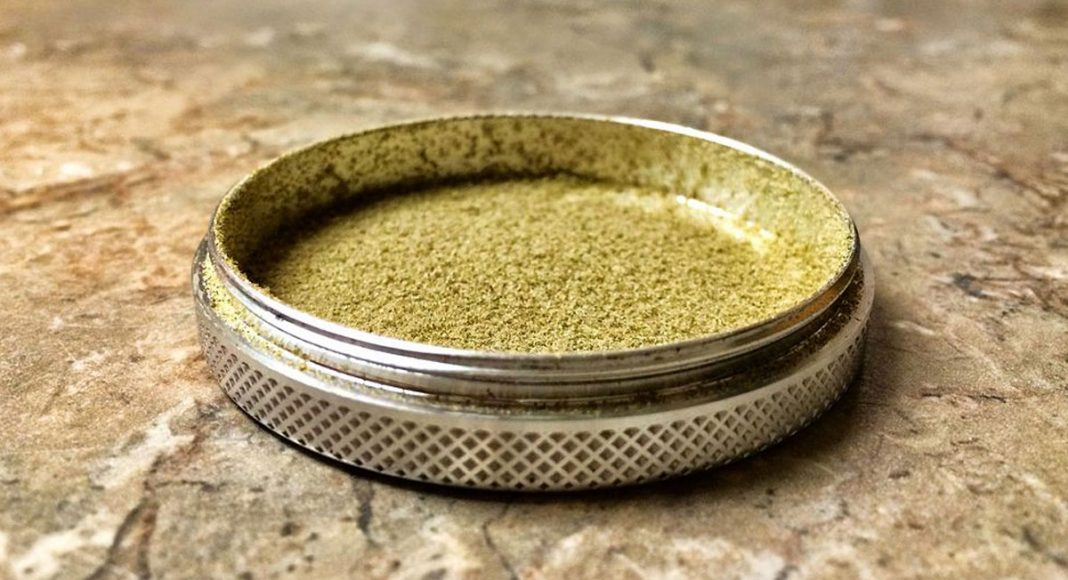 Yet, extracting CBD-rich kief is not something the average person can do successfully in their home.
"Sifting through the buds of those hemp plants would obviously produce some amazing CBD-rich kief, but you'd also be collecting THC and any other cannabinoids present on the plant," according to Westword's Ask a Stoner column. The piece goes on to explain how the extraction process is far more difficult than with cannabis plants.
"The only way to ensure that a concentrate has little to no THC is to separate the cannabinoid from the concentrate during molecular distillation, making it more like wax than kief. Otherwise, manual separation, which is virtually impossible at home, would be needed to remove the THC from the kief. If you want a pure CBD concentrate, try CBD isolate, which comes in crystalline form and can be 99 percent CBD," the column reads.
CBD isolate is the purest form of cannabidiol. It comes in the form of a white powder, which some law enforcement officers in legal states have mistaken for cocaine. But it is the strongest form of CBD that a person can get his or her hands on.
Experts say this is the go-to product for patients looking to get the most out of their CBD experience.