A space cake (or cannabis cake) is precisely what it sounds like: a delicious cake infused with cannabis. Available in dispensaries nationwide, space cakes have become immensely popular for cannabis consumers with a sweet tooth. Space cakes are delicious, discreet vehicles used to reach an out-of-this-world high (pun 100% intended).
While many space cake recipes exist, each boils down to combining the same materials. A space cake is simply a cake recipe of the user's choice made with cannabutter or another cannabis-infused fat such as coconut oil.
Here we'll break down a popular space cake recipe so you can whip up the tasty cannabis treat in the comfort of your own home. But first, let's answer some common questions about dosing.
What is space cake?
Space cake, whichever recipe you make it with, is a cake with cannabis extracts. It's a great way to get high, but it's very important to note that you should allow a couple of hours for the high to arrive. Don't keep eating more and more until you feel high, that's the way to consume way more than necessary and make yourself ill. Take a slice of space cake and then wait a couple of hours for the effects to begin.
If you are not sure what dose suits you, start off with a small slice and try more on a subsequent day. Many people feel it is wise to avoid drinking alcohol when using space cake, and perhaps it is also wise to avoid smoking/vaping cannabis at the same time as well.
Space cake is made like a normal cake, but with the addition of THC and other cannabinoids from cannabis.
You can buy space cake in places like Amsterdam, where it has been popular for decades. Or you may find it more reliable and cost effective to make your own from your home grown cannabis. Space cake connoisseurs will say the best way to make it is with your best quality buds. You can make seriously strong space cake! Others would argue that you should save your best buds for your vaporiser, and use your spare trimmings left over from harvest to make space cake. The choice is yours!
How long do the effects of a space cake last?
Space cakes are edibles, which means the THC takes a lot longer to kick in than with other cannabis consumption methods. It's always smart to start with a small serving and wait for one to two hours to evaluate the high's effects before taking more. Remember: you can always eat more, but you can't eat less.
Why do edible highs end up feeling more potent than vaping or smoking highs? Well, when you ingest cannabis, the THC in the edible converts to 11-hydroxy-THC in the liver, which is notably more potent. Edibles take longer to process, too, as the THC has to travel through your digestive system to kick in.
How do I calculate the dose per serving?
To find out the dose of one serving of your space cake, you need to do a little math. Start by finding out the THC percentage of the flower you're using to bake with. So, for example, if you start with 1 g of flower containing 20% THC, that would leave you with 200 mg of THC total. After decarbing the flower, you'll lose roughly 10% of that THC (200 x 0.9), leaving you with 180 mg of THC total. Following the extraction in oil or butter where you lose another 40% of the THC (180 x 0.6), you will have 108 mg of THC in that oil.
If you cut your space cake into eight even pieces, each one will have about 13 mg of THC, which is a fairly potent dose for most people. If you're a new or low-dose cannabis consumer, consider lowering the ratio of cannabutter to regular butter in your recipe or slicing your space cake into much smaller servings.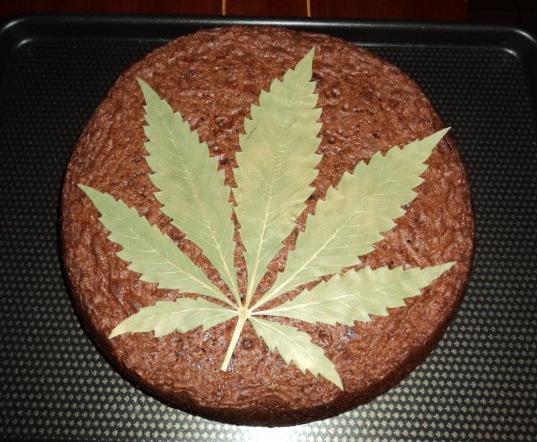 Space Cake Pro-Tips:
Before we get into baking, let's discuss a few pro-tips that will lead you to stellar success.
Scrape down your bowl. After each step, be sure to scrape the sides so that all of the ingredients get evenly incorporated.
Do not over-bake your space cake. If you leave your cake in the oven for too long, it will become a very dry cake and toughen the overall texture.
Try space muffins instead of space cake. If you don't have a 9×5 loaf pan or would simply rather have single-serving space muffins, this recipe makes mouthwatering muffins. Just be sure to butter and flour your muffin tins and then bake them for about 20-25 minutes or until a toothpick comes out clean (a few moist crumbs is okay).
Make it your own. This recipe is flavored with vanilla but you can easily swap in whichever flavors you like to make it your own. Try fresh lemon juice or maple syrup or even add in poppy seeds, shredded coconut, nuts, or really whatever your heart desires. This recipe is easily adaptable to your taste and preferences — so get high and get creative with it!
Space Cake Recipe:
Ingredients: (makes about 12 slices)
1 1/2 cup all-purpose flour
1 tsp salt
1/2 tsp baking powder
1 cup sugar
1 cup softened unsalted butter/cannabutter (the amount/ratio is up to your desired dosage, just make sure to use 1 cup of butter total)
4 eggs
1/2 cup sour cream
2 tbsp vanilla
Instructions:
Preheat oven to 350F. Butter and flour a 9×5 inch baking tin or spray with cooking spray.
In a medium bowl whisk together the flour, salt, and baking powder then set aside.
In a stand mixer fitted with a whisk attachment or handheld mixer (even a fork will do in a pinch) and cream the butter and cannabutter. Add in the sugar and continue to mix until light and fluffy. Scrape the bowl down the sides of the bowl and beat a few more seconds.
Add the eggs in one at a time and mix one at a time until fully combined. Scrape down the sides of the bowl as you go.
Next, add the sour cream and vanilla, and mix well. Scrape that bowl down again.
Add the flour mixture into your wet mixture and stir until combined. Scrape down the bowl one final time and make sure that any lingering butter has been fully incorporated.
Transfer the batter into the 9×5 baking tin and smooth out the surface until it looks fairly even. Bake at 350F for about 40 minutes or until the center is set and a skewer comes out clean (a few moist crumbs are perfectly normal).
Allow to cool in the tin for about 10 minutes before transferring to a cooling rack to cool completely. This cake can be left on the counter for about 3 days if left in an airtight container. It can also be frozen to devour at a later date. Enjoy!
There you have it! Space cake perfection from the comfort of your home. This cake is great on its own, but feel free to go crazy and top it with frosting, a lemon glaze, or any other fixings. Let us know what you think in the comments below!