The "special brownie" needs less introduction than most baked goods, but you'll find no sloppily constructed, slightly burnt bars here.
For those who don't live near a dispensary (or a group of friendly college kids), here's a low-key way to get your hands on safe, tasty edibles: Go homemade.It is one of the most classic desserts to make with cannabis, but that's not why they are outdated. Today we give you a simple, easy-to-make pot brownie recipe and answer some of the most frequently asked questions about it.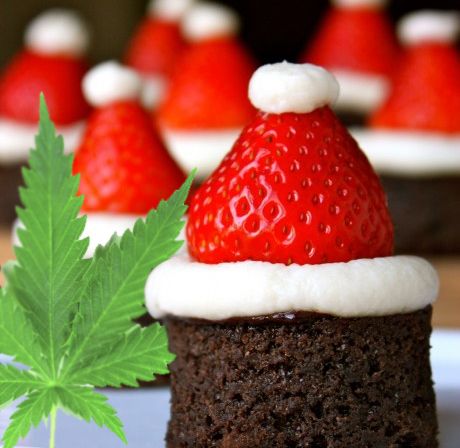 How much weed?
Not only will they taste better, but when you DIY, you're also fully in charge of how much bud actually ends up in the brownies. This recipe calls for a full 1/8 ounce of cannabis, yet the process still works if you decide to use less.
BTW, if you go by this spice conversions chart, 1/8 ounce of parsley (the closest cannabis comparison we could find), is equal to about 3 tablespoons. So, roughly 3 tablespoons of weed is about what you need. You're welcome.
We made the full batch of the cannabutter recipe below, used our preferred amount in the brownies, and stored the excess in the fridge in a clearly marked container (emphasis on "clearly marked").
Marijuana Cooking Tips
All right. I had told you that I was going to give you the recipe for Marijuana Brownie, promised, I'll do it soon, but before that, and if you think it's okay, I think it's not superfluous to remember some concepts or aspects to keep in mind, not only for this recipe, but whenever you're going to cook with marijuana.
Maybe you already know, or maybe it's the first time you've ever got your "hands on". Whatever your case may be, I'm sure it never hurts to read the following tips for cooking with marijuana again:
–Be meticulous with the amounts of plant: There is not a recommended average dose per person, and the truth is that none of us react in the same way when using cannabis, and you know that the effect between smoking or eating it is very different, mainly because the former is much faster and less durable than the latter.
So, if it's the first time you're going to cook and consume it, or someone who's going to share this brownie with you for the first time, it's best to go little by little, both in its preparation and at the time of eating it, and wait to see what effect it produces. It usually takes about an hour to take effect, so if you've thought about smoking a joint during that time… big mistake!
I Recommend to start with a half gram of marijuana (20% THC) for every 20 g of Brownie if it is in bud form and 2 grams if you use the remains of the manicured buds, but do not use more.
Must-know tips
Before you dump the contents of your grinder into a box of Duncan Hines Double Fudge, hang on a sec. To draw out cannabis's full potential in edibles, it must be decarboxylated.
Decarba-what? Decarboxylation is basically a fancy way of saying that the herb needs to be heated to fully activate it to its psychoactive form. Think: A joint won't get anyone high unless it's lit on fire.
This recipe makes 16 potent brownies. While they're delicious, we don't recommend you eat more than one at a time. If you're new to all this, eat a small one. And be patient. It could take up to 90 minutes for the brownie to digest and the high to hit you.
Also, different strains of marijuana have varying levels of THC, so they can impact each person differently.Trusted Source That, combined with how long it takes for the effects to kick in, and it's easy to take more than intended.
We don't mean to kill your buzz, but some adverse side effects of ingesting too much THC include motor impairment, extreme sedation, agitation, anxiety, cardiac stress, vomiting and, in rare cases, psychosis.
Ingredients
1/2 cup (113 grams) unsalted butter
1 gram quality cannabis flower
Weed brownies
1/4 cup (21 grams) natural cocoa powder, plus more for the pan
Cannabutter (above)
1/2 cup (100 grams) chopped dark chocolate
1 1/4 cups (250 grams) granulated sugar
1 tablespoon molasses
1 teaspoon vanilla extract
1/4 teaspoon kosher salt
2 large eggs
3/4 cup (90 grams) all-purpose flour
1/2 cup (57 grams) chopped toasted nuts (optional)
Directions
Make the cannabutter, following the quantities listed above and my step-by-step guide linked in the Author Notes.
Butter an 8×8-inch pan, then dust with cocoa. Heat the oven to 350°F (177°C).
In a bain marie (or in the microwave in 10-second intervals), melt the cannabutter and dark chocolate. Remove the bowl from the heat, then add the sugar, molasses, vanilla, and salt.
Add one egg at a time, mixing well after each. Beat for about 5 minutes, until a 5-second ribbon forms on the top of the batter when you lift the whisk. Stir in the chopped nuts (if you're using them). Sift or whisk the flour with the cocoa powder, then add to the chocolate mixture. Combine just until the flour disappears (don't overmix).
Pour the batter into the pan and place in the center of the oven. Bake for about 25 minutes, until a glossy top forms and starts to crack. Keep an eye on the edges, they will firm up first. To check, insert a toothpick near the corner—it should have a few moist crumbs.
Let cool on a wire rack for at least 10 minutes before cutting into 16 brownies. (If you'd like—and if your pan isn't glass—you can plunge the pan into cold water immediately out of the oven. The temperature shock achieves a chewy crust while maintaining the gooey center, a tip I learned from Eric Kim.)
Store the brownies in an airtight container for up to a week. For longer storage, cut and freeze the brownies, then warm up in the microwave or oven before serving.
Bottom line
Weed brownies are fun to make, delicious in the moment, and enjoyable for hours after. What's not to love?
Just remember, people: A little goes a long way. Especially if you're a newbie to the culinary cannabis scene, be sure to pace yourself. Eat one square at a time and give it a few hours to kick in before you go back for seconds.