Baking sweet treats is serious business around the holidays. The oven is basically a revolving door with trays of stacked cookies flying in and out. We ain't complaining.
And whether you're a purist with a family recipe that still shines or a new baker looking for something bold to whip up, there's a special batch you may want to consider. Yep, we're talking cannabis cookies.
We've put together a list of standout edible cannabis recipes you can bring to any holiday party (with due warning).
The creaminess of a coconut almond macaroon or the kick of a gingersnap will mask the taste of cannabis, leaving your strait-laced uncle to ask, "Is there even weed in here?" while reaching for his third and seeing a lot of purple or something.
Now that's good baking. These 12 cannabis cookie recipes will have you in a Happy Holidaze quicktime.
Gingersnap Cookies with Medicated Caramel Frosting
It's National Cookie Day and I almost missed it! Luckily I have logs of homemade gingersnap cookie dough saved in the freezer and medicated dulce de leche on hand. Now I can celebrate this holiday like bawse!
Gingersnap Cookies with Medicated Caramel Frosting
Cookie Ingredients
• 3/4 cup butter, softened
• 1 cup sugar
• 1 large egg
• 1/4 cup molasses
• 2-1/4 cups all-purpose flour
• 2 tsp ground ginger
• 1 tsp baking soda
• 3/4 tsp ground cinnamon
• 1/2 tsp ground cloves
• 1/4 tsp sea salt
Medicated Frosting Ingredients
• 2 Tbsp butter, softened (you can use canna-butter for extra potency)
• 1/4 cup heavy cream
• 1/4 cup medicated dulce de leche
• 2 cups confectioner's sugar
• 1/2 tsp vanilla extract
• Crunchy finishing salt, like Maldon
Directions:
1. Preheat oven to 350ºF
2. In a large mixing bowl, cream butter and sugar until light and fluffy. Beat in one egg and molasses.
3. Combine the all-purpose flour, ground ginger, baking soda, cinnamon, cloves and salt; gradually add to the creamed mixture and mix well.
4. Roll cookie dough into 1-1/2″ balls. Place 2″ apart on a baking sheet. Bake until lightly browned, approximately 10 minutes.
5. Remove to wire racks to cool.
6. While the cookies are cooling, combine the softened butter, confectioner's sugar, medicated dulce de leche, vanilla, and heavy cream in a mixing bowl. Beat on low speed of electric mixer until blended.
7. Once cookies are cooled, spread the medicated caramel frosting and top with a crunchy finishing salt or holiday sprinkles.
Vegan Edibles: Cannabis Infused Almond Laced Cookies
To me, the holiday season is all about making cookies with the fam, putting the cookies in napkins, hiding cookies in your top desk drawer, and eating cookies by yourself in the middle of the night (ohhh… fat kid food hoarding memories).
These cannabis infused florentines (or almond lace cookies) are tipping the cookie v. pie argument in my favor. Light, crispy and not too sweet, they are surprisingly simple to make, and extremely delicate and fancy.
Almond Laced Cookies
Ingredients:
3 tbsp gluten-free all-purpose flour or white flour
1 tbsp powdered or fresh orange zest
1/4 tsp salt
1/2 cup sugar
1/8 cup coconut oil
1/8 cup cannabis infused coconut oil
2 tbsp brown rice syrup
2 tbsp full-fat canned coconut milk
1 tsp vanilla
1/4-1/3 cup dark chocolate chips
1/2 tsp thc coconut oil
powdered sugar (optional)
Directions:
Preheat the oven to 275° and line 2 baking sheets with parchment paper.
Chop the sliced almonds into small pieces and add them to a bowl with the Flour, Orange Zest, Salt and Sugar.
In a small saucepan, over medium high heat, combine Green Oil, Coconut Oil, Brown Rice Syrup, and Coconut Milk. Stir just until the mixture comes to a low boil. Remove from heat and add Vanilla.
Add the dry ingredients to the saucepan and mix until combined. Allow to cool for 10 minutes, or until the mixture is cool enough to handle with your fingers.
Using a Tablespoon, scoop mixture onto the prepared baking sheets, leaving about 3-4 inches of space in between the cookies. Bake 15-17 minutes, rotating the pan once during baking. Cool on sheet for at least 5 minutes before moving them onto a cooling rack.
In a double boiler, melt chocolate chips. Using a fork, drizzle chocolate over cookies and sprinkle with powdered sugar.
Oatmeal Canna Cookies
Time Required: 30 minutes
Yields 2 to 3 Dozen
What You Need:
baking sheet, greased
2 large eggs
¾ cup Cannabutter
2 cups raw sugar
2 teaspoons vanilla extract
1 tablespoons ground nutmeg
1 tablespoons ground cinnamon
2 cups whole wheat flour
½ teaspoons baking soda
1 teaspoon sea salt
2 tablespoons water
1 ½ cups raisins
2 cups rolled oats
1 cup pecans, chopped
Steps:
Preheat oven at 350 degrees.
Cream together the eggs, Cannabutter, sugar, and vanilla.
Combine the spices, flour, baking soda, and salt into the creamed mixture.
Add the water, raisins, oats, and pecans. Mix thoroughly.
Chill cookie dough for 20 minutes in refrigerator.
Spoon ping-pong-ball-sized amounts of dough, about two inches apart, onto greased baking sheet.
Bake in preheated 350-degree oven for 12 to 20 minutes, or until tops brown slightly.
Medicated Coconut Almond Macaroons Edible Recipe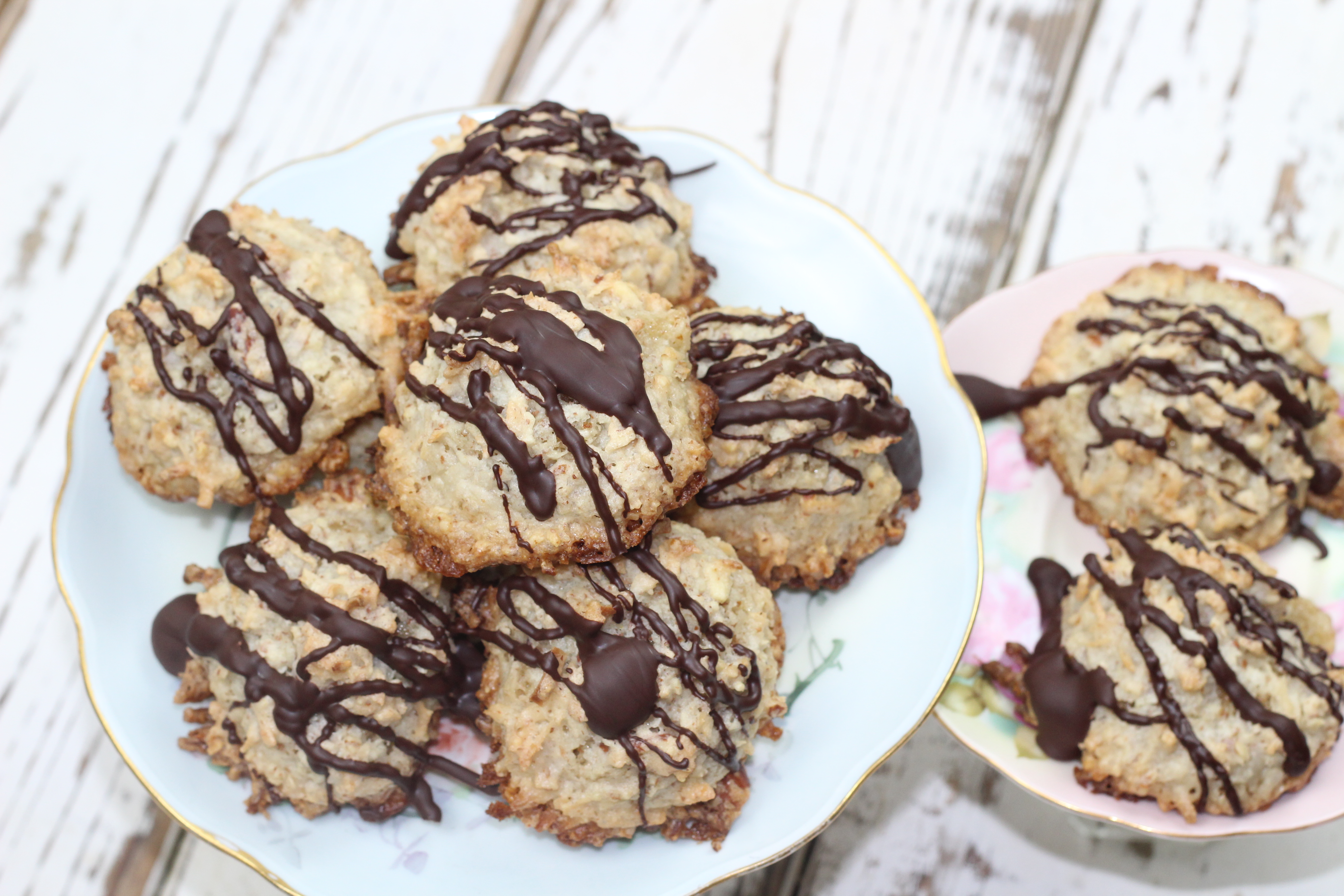 Crispy on the outside, perfectly chewy on the inside. The texture of these macaroons is something of dreams….and oooh the flavors! Coconut and almond meet in perfection to compliment this easy-to-make medicated treat! They may look fancy, but this is one of the simplest Cannabis Cookie Recipes ever, for those of you who don't have a whole lot of time, patience or ingredients. And hey, they're Vegan and Gluten-Free to boot! If you don't like coconut, do yourself a favor and try these Medicated Coconut Almond Macaroons, they just might change your mind.
Supplies:
Hand or stand mixer
Cookie sheet
Parchment
Ice cream scoop
Wire cooling rack
Ingredients:
3/4 cup granulated sugar
2 large egg whites
2 cups shredded coconut
2/3 cup chopped almonds
5 tablespoons plus 1 teaspoon cannabis coconut oil (melted)
2 teaspoons vanilla extract
1/2 teaspoon almond extract
A bit of salt
1 cup dark or white chocolate (melted, optional for dipping or drizzle)
Directions:
How to make Medicated Coconut Almond Macaroons
Preheat the oven to 340°F.
In a large bowl whisk together sugar and the egg whites until semi-stiff peaks form. This should take about 3 minutes; the mixture should have a similar consistency to marshmallow crème.
Add shredded coconut, chopped almonds, canna coconut oil, vanilla extract, almond extract, pinch of salt, and mix thoroughly!
Line a large baking sheet with parchment paper.
Use ice cream scoop to dispense mixture; form scoops about 2 inches apart on baking sheet.
Bake for 15 to 17 minutes or until golden brown.
Let set on wire rack until completely cool.
(Optional) Melt 1 cup dark or white chocolate, dip or drizzle on cookies to a lil something extra!