Why Is Odour Control So Important?
Unfortunately, cannabis remains illegal in many parts of the world.
Growing the herb at home comes with many rewards, including the satisfaction of smoking your own weed and saving a bunch of money during the process. However, it also comes with a significant risk depending on where you live.
Some growers live in regions where they'll receive a warning and a slap on the wrist if they get busted. Others face more serious consequences, including getting evicted by their landlord or ending up in jail.
In turn, cannabis growers take creative measures to keep their botanical passion clandestine. Some cultivators cover up their windows to prevent the obvious glow of pink and blue LED lights. Others go to the lengths of converting cupboards and computer towers into mini grow rooms to keep their plants hidden and secure.
These techniques are effective at keeping a crop under the radar, but the smell of flowering weed remains the most obvious give away. Cannabis terpenes are powerful enough to stink out an entire apartment block if left unchecked. Growers must do everything they can to prevent terpenes from leaking out of their growing space if they want to stay undiscovered.

When Do Cannabis Plants Start Smelling?
Thankfully, cannabis plants don't stink throughout the entire growing cycle. In fact, they remain entirely scent-free during the seedling and vegetative phase. During these stages of growth, plants direct all of their energy toward getting as big as possible to house future flowers.
Eventually, though, the vegetative phase must come to an end. Depending on the type of plant, a shift in the daylight hours, or an internal genetic mechanism, will initiate the flowering stage. Over the course of the next few weeks, you'll notice your plants stretch and show the first signs of flowering: small hair-like pistils at the nodes. As these become flowers that grow into full-sized nuggets, they'll start to stink more and more.
This increasing intensity is caused by another key development, specifically those small crystal-like structures you'll notice on the surface of cannabis flowers. Known as trichomes, these mushroom-shaped glands churn out a resin that's rich in cannabinoids and smelly terpenes. This resin, in turn, protects the plant from insects and fluctuating temperatures. Your flowers will begin smelling as soon as your plants start producing this resin, and will stay stinky well after you harvest them.
Low-Growing Weeds
Often growing in large groups, pineapple weed (Chamomilla suaveolens), a 6- to 12-inch-tall annual plant, has finely dissected foliage and pineapple-shaped yellow flowers. It releases a pleasant, sweet fragrance that resembles pineapple when it's walked on or otherwise crushed. Another small weed that resembles pineapple weed, mayweed chamomile (Anthemis cotula) differs in that it has small, white, daisylike flowers, more finely dissected leaves, and an unpleasant odor when crushed.
Large Weeds
One of the largest-growing and smelliest weeds, datura (Datura spp.), also known as stinkweed, has two sources of odor. The leaves have an unpleasant smell and the white, trumpet-shaped flowers have a powerful, sweet fragrance. Depending on the species, the plants can reach 2 to 5 feet tall. They grow in waste areas and have round, spiny fruits. All plant parts are poisonous if eaten. Jimsonweed (Datura stramonium) is an annual plant that can reach 4 feet tall. Probably the tallest scented weed, fennel (Foeniculum vulgare) is a perennial growing from 4 to 10 feet tall. It has a licoricelike sweet odor when crushed. It grows in open, disturbed areas in USDA zones 4 through 9, often in dense stands. Native to the Mediterranean, fennel has feathery leaves and a broad, flat head of yellow flowers.
Interesting Pods
Distinctive because of the round, flat pods it bears, field pennycress (Thlaspi arvense) is a member of the mustard family, or Cruciferae, and is a winter or summer annual native to Europe. It grows to about 18 inches tall with clusters of small, white flowers at branch tips. It has an unpleasant smell, especially when crushed. The foliage is pungently flavored with a taste between garlic and mustard. Combining a strong odor with a sticky substance produced by glandular hairs on its leaves and stems, clammyweed (Polanisia dodecandra) has conspicuous, long, slender seed pods that follow the showy white flowers, which possess long, pink to purple stamens. This Mediterranean annual weed grows 1 to 3 feet tall.
Other Smelly Weeds
In areas with moist soils such as meadows, marsh edges and pools in floodplains, pennyroyal (Mentha pulegium) can be an invasive weed. The low-growing, spreading plant has a strong, minty odor. This European native grows in USDA zones 6 through 9. Violet, pink or blue flowers bloom in whorls along the upper stem areas. Also native to Europe, common yarrow (Achillea millefolium), which grows in USDA zones 3 through 9, has ferny-looking leaves and clusters of white or yellow flowers at stalk ends. The leaves have a pleasant, sagelike odor that lasts even in dried plants. Besides naturalizing into plant communities, such as salt marshes, grasslands, coastal bluffs and sand dunes, common yarrow is a weed in lawns and landscapes.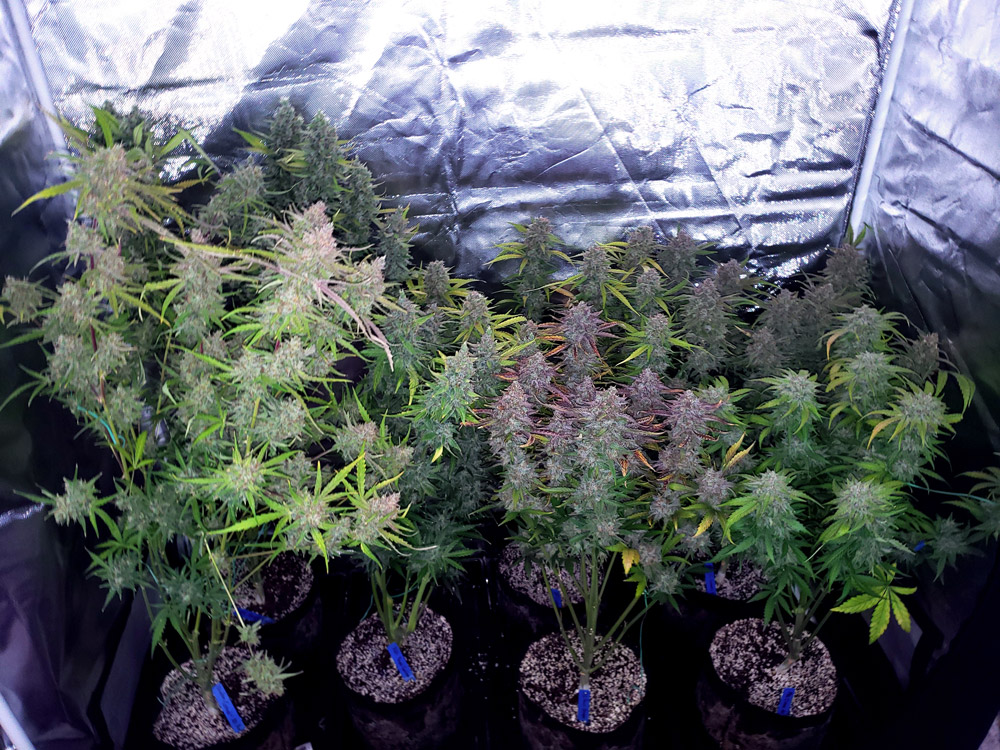 At what age do cannabis plants start to smell?
Short Answer: The smell starts at 3-6 weeks old (depending on strain) even in the vegetative stage. But the smell gets much worse after plants start flowering/making buds.
The leaves of a cannabis plant smell a little, but the buds smell a lot. When plants are young they don't make a lot of smell, but once the plants get big and start growing buds, the smell can be intense.
Cannabis plants are too small to smell for at least the first few weeks after germination.
Most plants don't have a whole lot of smell until they get big or start flowering (making buds)
However, I have grown strains where plants start smelling at only 3-4 weeks old in the vegetative stage
Usually, by the time any plant is 6 weeks old, it's big enough to have a noticeable smell
Remember….
Leaves make a smell, but buds create an intense aroma
Bigger plants smell more
More plants smell more
Some strains smell more than others
Prevention tips
Choose a strain that produces less smell (though plant will still have an odor). Check out these low-odor strains.
Take precautions to ensure no one ever smells anything.