Shatter is a highly concentrated cannabis extract typically made by butane extraction. Over the past decade, shatter has gained popularity among cannabis users for its glassy, photogenic texture and high THC potency. Let's take a closer look at what shatter is, how it's processed, and how we test it.
Concentrated Cannabis Extract
Shatter is known by several different names including shatter wax, cannabis shatter, and shatter weed. Shatter is amber in color, semitransparent, and has a brittle, glass-like texture.
The name shatter comes from the extract's glassy appearance. When shatter is made, the resinous extract forms sheets that can be broken apart or "shattered" into smaller pieces like glass.
Cannabis extracts like hashish have been used for centuries. However, shatter began to gain popularity in the early 2010s along with other concentrated cannabis extracts known as dabs.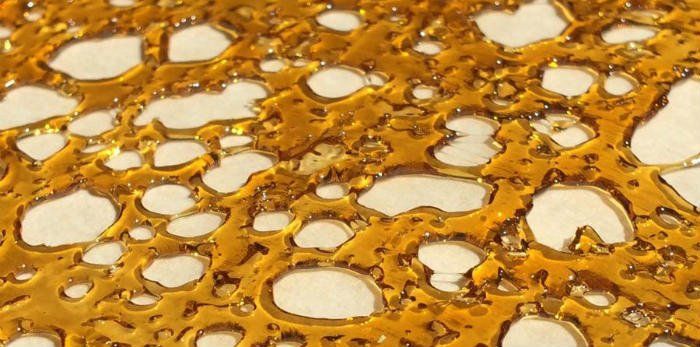 Some critics are wary of shatter and similar cannabis extracts due to their high potency. While cannabis flower is often between 10-25% THC, shatter can contain up to 80% THC.
But some cannabis users, both medicinal and recreational, prefer the high potency of shatter because the effects come on much more rapidly and powerfully. This is an especially desirable feature for people seeking relief from chronic pain and other ailments.
How Shatter Is Made
Shatter is classified as an extract, so it's made from cannabis's extracted essential oils. Typically, this extraction is done with a hydrocarbon solvent such as butane, propane, or a mixture of the two. It can also be extracted with carbon dioxide, but not usually.
Once extracted with hydrocarbons, the raw oil undergoes some cleaning. The resultant bubbling sludge gets whipped, stirred, then placed in vacuum ovens, which gently heat the extraction while sucking out residual hydrocarbons and properly disposing of them.
Now that the extract has been cleaned of toxic solvents, it undergoes winterization. Winterization is a fancy name for "adding alcohol and filtering." Basically, ethanol (usually in a relatively pure form like Everclear) gets poured into the extract. The contents are stirred or shaken then placed in a freezer. Cooling causes extraneous lipids and hydrocarbons (from the initial extraction) to coagulate, or clot. The mixture is run through a filter (kind of like coffee) to catch the lumpy, buttery crud and to separate the undesired elements from the ethanol mix.
Winterization is usually done three to five times to ensure the final product contains as little extraneous plant material as possible. Once the filtering steps are done, the ethanol is gently cooked off or evaporated from the mix, leaving behind delicious THC for your dabbing pleasure.
How We Test Shatter
Like all cannabis products sold legally in California, shatter must undergo testing by a third-party lab. Shatter falls under the category of cannabis concentrate. As a result, shatter must be tested for the following:
Cannabinoid profiling/potency
Pesticides
Microbial screening
Heavy Metals
Mycotoxins
Foreign materials
Residual solvents
Residual solvent testing is especially important for shatter since it's made by solvent extraction. Similarly, cannabinoid potency labeling is also critical for shatter because it's so highly concentrated compared to other cannabis products.
How Is Shatter Different From Other Extracts?
Shatter doesn't offer anything special for the average toker. It comes in around the same potencies as other extracts or concentrates (70 to 90 percent THC). Where it usually differs is cost and ease of dabbing.
Imagine cannabis extracts existing on a spectrum that moves from containing the most plant components to containing the least plant components. On one end of this spectrum, you'll find raw cannabis oil — the thick, black, sativa-saturated syrup called Rick Simpson oil, Phoenix Tears, or FECO (full-extract cannabis oil). Raw oil is essentially the plant in viscous form, so of all the different forms of cannabis extracts, it contains the most of everything: cannabinoids, terpenes, etc.
On the opposite end of the sectrum are isolates. Isolates are pure THC or CBD crystals/powders. They contain no terpenoids or other plant components. 
Shatter Drug vs. Marijuana
In the drug world, it seems that any time nature is messed with by man — in the way that the coca plant and poppy have been altered to create cocaine and heroin — the results are dangerous, addictive, and cause more harm than good. People are comparing shatter to marijuana as cocaine to coca — suggesting that the former is much more dangerous.
At its core, shatter is concentrated marijuana that is extracted through a chemical process. This means that it contains the same psychoactive properties of marijuana in the form of THC.
Shatter is more potent than marijuana in its traditional form, however, containing upwards of 60% THC compared to approximately 20% in marijuana. Shatter drug users get higher faster, and the effects of shatter have been described as much more intense and intoxicating — with more intense negative effects such as drug induced psychosis, anxiety and paranoia common as well.
Although shatter production is still mostly illegal even where medical marijuana is legalised, the community is split over whether shatter is good or bad for the industry and patients. Some say that shatter and other hash oil concentrates are superior to marijuana in their ability to reduce pain and help with other disorders. However, others argue that impurities leftover from production and the bad name that BHO is getting due to careless at home production efforts leading to explosions and fires negate any potential positive benefits of having a more concentrated dose of THC.
The fact is, both shatter and marijuana can cause serious negative effects for the user, and should not be taken lightly.
Dangers of Shatter Drug Production
Probably the most frightening danger associated with shatter is its production. While the process is not innately complex, the butane used to extract THC resin from the plant is highly flammable. There has been an increase in explosions and house fires across the United States due to ill-informed people trying to make the drug at home. This has caused serious injuries and deaths and sparked media attention to the drug's dangers.
With unregulated production, shatter also often ends up containing harmful trace chemicals from the process. While most claim that a purification process is used to get rid of any remaining butane, there is no sure-fire way to know how much of the toxic gas is actually leftover. This leaves you with a drug that is more toxic than its plant-based counterpart.