Terp sauce is a cannabis extract that contains a high concentration of terpenes, resulting in a runny, syrupy sauce-like concentrate. Terpenes are the fragrant oils that give cannabis flower its many different aromas, such as lemon, pine, or skunk; they are also thought to contribute to the various effect profiles of cannabis strains. Terp sauce is often combined with more solid chunks of cannabis isolate or extract or processed into a vape cartridge. 
Terpene-rich, syrupy layer that typically surrounds diamonds, or crystalline structures, in sauce. The low temperatures utilized during the extraction process produce a high-terpene extract void of all plant fats and waxes, so it does not need to be winterized. Terp sauce usually comprises more than 50% terpenes, though all minor cannabinoids and other compounds from the extracted plant are still present and contribute to its effects. Terp sauce is sometimes packaged in vape cartridges called sauce carts. Those purchasing terp sauce should be careful they are getting terp sauce, as it can be confused with other semi-liquid cannabis concentrates and marketed as "sauce" or "juice."
"You should try dabbing terp sauce sometime."
"This terp sauce is so much more flavorful than the CO2 cartridges I've been vaping."
What is terp sauce?
Terp sauce is a cannabis concentrate that contains high levels of terpenes, which are the aromatic oils that give cannabis strains their scent. Their more technical name is "high terpene full spectrum extracts," or HTFSEs. Not only are terpenes responsible for the sweet, earthy, and sour aromas found in cannabis, they are also thought to influence the overall effect of each strain. In other words, terpenes might contribute to the many effects associated with cannabis such as feeling relaxed, uplifted, focused, or stress-free. Terp sauce is a type of cannabis extract that concentrates these terpenes in a liquid, runny "sauce" that is usually vaporized or dabbed.
Many different variations of terp sauce exist. Liquid terpene extracts may be combined with solid THCA or CBD isolate, or mixed with a potent distillate. It may fall somewhere in between, forming a soft, wax-like sugar. The common characteristic of terp sauces is that they are terpene-rich preparations, containing higher-than-average levels of terpenes. A terp sauce may, for example, contain 30% cannabinoids like THC and CBD, while the remaining 70% of the product is terpene extract.
Terp sauce has become so popular thanks to the rise of terpenes themselves. Cannabinoids were once the be-all and end-all when smoking weed. However, science has unveiled the importance of terpenes and how they modify the effects of cannabis. Users are seeking higher levels of terpenes to enrich the taste of their experience, as well as the effects.
Terpenes are volatile molecules that possess relatively low boiling points. Certain extraction techniques can cause them to evaporate. Luckily, terp sauce is a different story. It involves a technique that preserves these precious molecules—the end product is highly aromatic.
Terp sauce is also extremely potent. High levels of THCA crystals decarboxylate when exposed to heat. They convert to THC, which goes on to produce a powerful psychoactive effect. Let's explore exactly how terp sauce is created.
How is terp sauce made?
To begin with, a high-quality strain is required. The more THCA and terpenes present in the starting material, the better the end product will be.
Terp sauce makers tend to use fresh flowers to first make live resin—a connoisseur-grade extract that preserves flavour and aroma. Flash-freezing buds before butane extraction prevents the loss of terpenes. It's easy to see why live resin makes for higher-quality terp sauce than using cured buds.
The extract then needs to be lightly purged with gentle heat to off-gas the majority of the solvent. Next, the extract is poured into a mason jar while still viscous. Jars are stored in an environment slightly above room temperature.
Pressure will start to build in the jars, and THCA crystals will start to form. These heavy objects sink to the bottom of the jar, while the terpenes rise and begin to form a gooey layer of soup at the top. This process takes around 2–3 weeks.
The terpenes and crystals are then separated and purged. The terps are purged for around 60 hours, and the crystals for 72 hours. Once all the solvent has been removed, the crystals and terps and reunited and packed into UV-proof containers. The end result is a sauce rich in terpenes with a cannabinoid content of anywhere between 30–50%.
Terp sauce can be made using a variety of processes that extract terpenes from the cannabis plant. Like cannabinoids (THC, CBD, etc.), terpenes can also be extracted from the plant. This can be done using solvents like butane, hydrocarbons, or CO2. Terpenes are then separated from cannabinoids, forming an aromatic liquid concentrate. This terpene-rich extract can then be integrated with cannabinoids in various forms.
Difference between terp sauce and live resin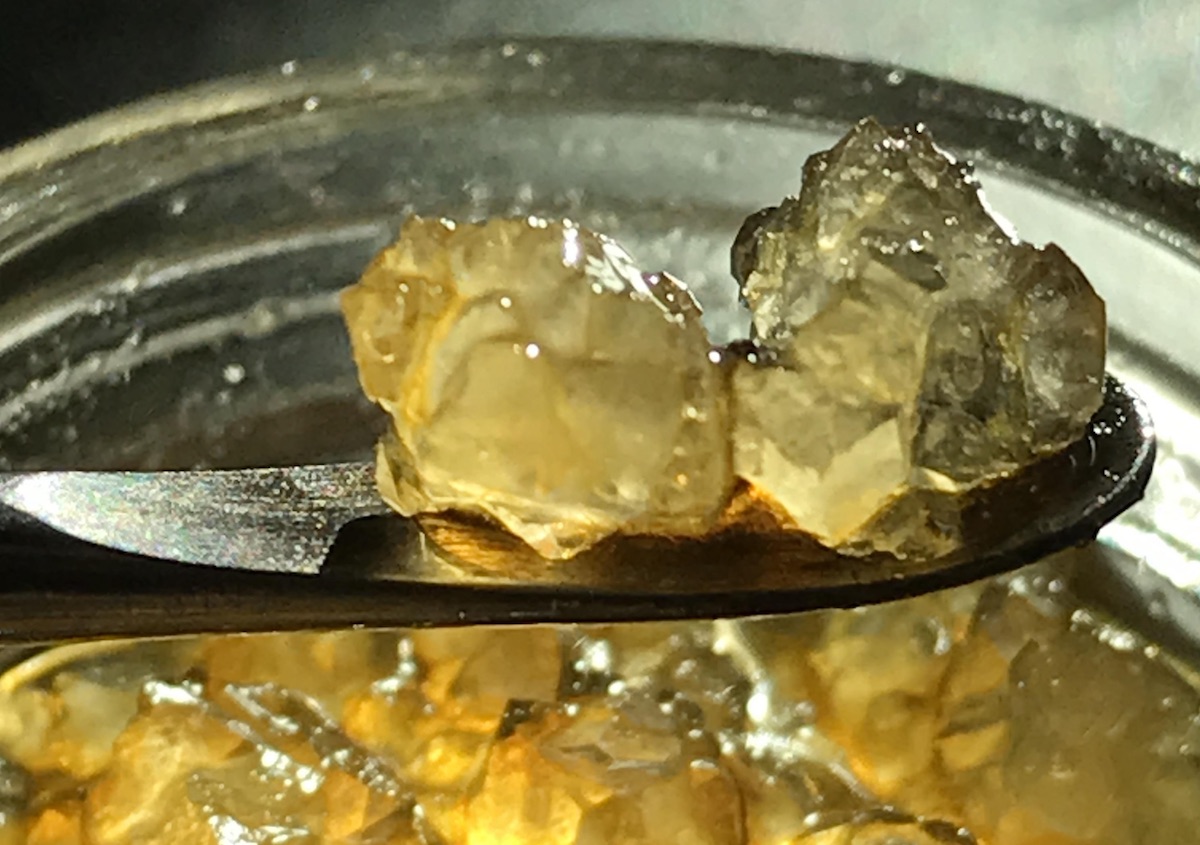 Terp sauce and live resin extracts are easily confused as they both tend to be full-spectrum extracts and may contain high levels of cannabinoids and terpenes.
Live resin is a waxy cannabis extract that retains a high terpene profile because the source plant is frozen at subcritical temperatures before extraction, as opposed to first being dried and cured, a process which inevitably degrades the plant's terpenes.
While live resin is typically high in terpenes, its chemical content is generally dominant in cannabinoids like THC. Terp sauce, on the other hand, is a terpene extract that may be combined with other cannabinoid-rich concentrates like isolate or distillate. Both products are cherished by terpene enthusiasts, and when choosing between the two, it ultimately comes down to which terpenes and cannabinoids you prefer and at what ratios/concentrations you prefer to enjoy them.
THE DIVERSE WORLD OF CANNABIS CONCENTRATES

Cannabis concentrates are exactly as they sound. They're homogeneous masses of the active constituents within the cannabis plant. This gives them an appeal over raw flowers in terms of purity, quality, and potency. Concentrates and extracts are largely the same, but differ in one key area. All extracts are concentrates, in that they feature high concentrations of cannabinoids and/or terpenes. However, not all concentrates are extracts. This is because extracts use solvents to dissolve the desired substances into a solution.
Humans have indulged in cannabis concentrates for thousands of years. Charas and hash are some of the oldest forms. Both are created by rubbing the trichomes off of fresh or dried cannabis flowers. Dry sift hash—or kief—is another basic form of concentrate. It involves sieving dried cannabis flowers to dislodge trichomes into a collection tray.
Modern technology has given rise to a host of different concentrates that outweigh these traditional options when it comes to potency. These include solvent concentrates such as shatter, CO₂ oil, butane hash oil (BHO), Rick Simpson oil (RSO), and live resin. Some of the most popular solventless extracts include rosin, distillate, and bubble hash.